Jamaica Inn
(1939)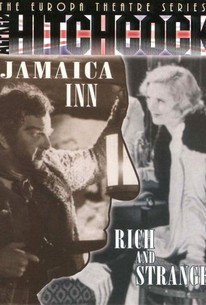 Movie Info
Based on a Daphne DuMaurier story, this Alfred Hitchcock thriller stars Charles Laughton as Squire Pengallon, the head of a band of smugglers in Victorian-era England.
Critic Reviews for Jamaica Inn
Audience Reviews for Jamaica Inn
½
Recently orphaned, Mary(Maureen O'Hara) travels to stay with her Aunt Patience(Marie Ney) but soon finds she lives in the kind of place that the coach driver wants nothing to do with. But luckily for Mary, Sir Humphrey Pengallen(Charles Laughton) makes up the difference and escorts her to the correct address. And then she almost wishes he hadn't. That's because Patience's husband, Joss(Leslie Banks), is the leader of a bunch of cutthroats, responsible for a bunch of deadly shipwrecks in the area, who have now turned on Traherne(Robert Newton), one of their own. Riddle me this: When is a Hitchcock film not a Hitchcock film but in reality a Hitchcock film? The answer is "Jamaica Inn" which on the surface is just another period piece that gets off to an awkward start in introducing all the principal characters. But then it picks up steam, even with the dated material and primitive special effects, as there is more than one character who is not who he says he is. The fact that there is a little delusion mixed in is only icing on the cake, along with some excellent work from Charles Laughton and Maureen O'Hara.
This is my favourite of Hitchcock's 30s movies, it's exciting, thrilling, and romantic. It has great actors too.
½
it's pretty weak for hitchcock; way too melodramatic with alot of bad acting, including a ridiculous performance by charles laughton! too bad; i love sea adventures...
Stella Dallas
Super Reviewer
Jamaica Inn Quotes
There are no approved quotes yet for this movie.