Journey to the Center of the Earth
(1959)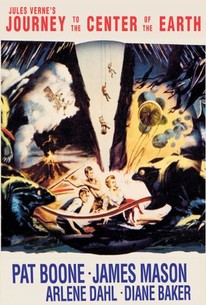 Journey to the Center of the Earth Photos
Movie Info
There was neither a heroine nor a villain in Jules Verne's 1864 novel Journey to the Center of the Earth, but scenarist Charles Brackett evidently knew what he was doing by adding both to the 1959 film version. The picture proved to be a significant success in an otherwise disappointing year for 20th Century Fox. James Mason stars as amusingly absent-minded professor Oliver Lindenbrook, whose first step on a fabulous journey is prompted by a lump of lava brought to him by his student Alec McEwen (Pat Boone -- and, yes, he gets to sing). Melting down the curiously composed lump, Lindenbrook discovers a hastily scrawled message from long-lost explorer Arne Saknussem, with directions for reaching the earth's core. Accompanied by Carla (Arlene Dahl), widow of a famed geologist, and Icelandic guide Hans (Peter Ronson), Lindenbrook and Alec head down, down below. They are closely followed by the villainous Count Saknussem (Thayer David), descendant of the lost explorer who wrote the directions; the count hopes to use Lindenbrook's discoveries for his own personal and political gain (we know he's really bad when he eats Han's lovable pet goose). What follows is a festival of superb special effects, fabulous subterranean sets, and gigantized reptiles posing as dinosaurs, all brilliantly accompanied by Bernard Herrmann's ominous musical score. Journey to the Center of the Earth would later be adapted into a Saturday-morning cartoon series, again produced by 20th Century Fox. ~ Hal Erickson, Rovi
News & Interviews for Journey to the Center of the Earth
Critic Reviews for Journey to the Center of the Earth
Audience Reviews for Journey to the Center of the Earth
You want something to watch for an entire lazy afternoon? well I highly suggest this quirky adventure which is epic in both scale and length. Jules Verne was probably the best fantasy writer to come along, his stories are the stuff of legend and this film is probably the best adaptation of this particular work. At just over two hours long the film is in depth with detail that's for sure, maybe too much. It takes absolutely ages for the team to actually get on with the expedition, there is tonnes of back story and plot which leads up to the main event. Now some of this is of course required, such as why they are going down into the Earth, the team members, the dastardly men who are clearly not as good willed as the heroes etc... I have to admit to getting rather bored waiting for this film to get into gear. The film is in two acts almost really, the first act being a whole load of spiel leading up to the crux of the film, the second act being the actual fun part deep inside the Earth. If it wasn't for the eloquent dulcet tones of James Mason I may have given up. Yep the cast is pretty good, not epically good but a unique selection of character actors that are good. Mason of course is the big draw here and he doesn't let you down, his performance is as solid as an oak tree. I really enjoyed his bold, loud, chauvinistic character and the way he belittles everyone around him as if they were a fool. The whole approach isn't exactly PC but undeniably fun to watch as he moans and groans about letting a woman come on the expedition. Arlene Dahl is surprisingly attractive in this, didn't really expect that, and I liked her retorts as she goes head to head with Mason's character, you just know they will fall in love awww. Anyone know Dolph Lundgren was in this? I jest of course but Peter Ronson doesn't half look like a young early version of Lundgren, acting is about on par too hehe. Look out for Batman's butler 'Alfred' (Alan Napier) in a small role and of course the sinister looking Thayer David is brilliant as the somewhat nasty 'Count Saknussem' (terrific name), but was he really a bad guy or misunderstood?. As for the actual adventure within the Earth...its kinda OK, but lacks excitement if you ask me. Now don't get me wrong its a fun varied adventure but you can't help but wish for more big lizards (various types) and some sea monster action. What we get are real iguanas that have been painted up and then blue screened/superimposed with the live action. The effect is pretty sweet really and adds a unique look, clever idea really but I'm still not sure if stop motion may have been a better choice?. On reflection I must admit to liking the use of real creatures for the monster threat, it does work nicely, I just wish there were more monster threats in the film. The underground sea crossing was begging for some monster action but alas! it still looks good, nice matte painting work. The issue I have with this film is the fact they had gone with more dialog over action, too much action can also be bad of course but this film really needs a boost in places. The finale builds up to it but feels very anti climatic, when they find [i]Atlantis[/i] surely there could of been something lurking. Oh and that's the other issue, this film has had many alterations from the original story. Not much of a surprise but the original book had sea monsters damn it!. I guess technology limitations come into play but that doesn't excuse the vast amount of other changes eh. There is a lot of things I like about this film but a lot I don't like, mainly it being too long with too much exposition. Still can't deny the grandiose scope of the film at every turn, fantasy buffs will enjoy I'm sure. Personally I love the quaintness of it all, the way everybody is dressed, everyone is well spoken, they bring a duck along with them on the adventure etc...the era it was made in compliments the story so well.
Phil Hubbs
Super Reviewer
This classic adventure movie based on the Jules Verne novel still looks so great and still has such a great and unique atmosphere over 50 years later. The settings of the caves our heroes have to wander through are a great mix of fantastic looking studio sets and real caves. It also helps that the story is enthralling and has the lovable duck Gertrud in the adventurer team. Not only the sequence with the rolling rock implies that Spielberg knew this film very well when he planned his Indiana Jones debut. Very few films of this era have aged so well and are still as much fun to watch as they have been on a rainy childhood memory.
A exciting, but boring. Journey to the Center, become very silly. Even Henry Levin's direction saves this sci-fi success.
Lucas Martins
Super Reviewer
Journey to the Center of the Earth Quotes
There are no approved quotes yet for this movie.