The Longest Yard
(1974)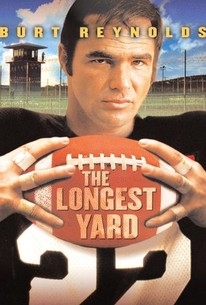 AUDIENCE SCORE
Critic Consensus: Equal parts tough and funny, and led by a perfectly cast Burt Reynolds, The Longest Yard has an interesting political subtext and an excellent climax -- even if it takes too long to get there.
Movie Info
Ex-football star Paul Crewe (Burt Reynolds) ends up in a prison run by sadistic sports-nut Warden Hazen (Eddie Albert). Strong-armed into forming an inmate football team, Crewe manages to instill an esprit de corps previously lacking in the prisoners' lives. Besides, they now have the chance to beat the guards' football team, headed by the hissable Capt. Knauer (Ed Lauter). Hazen orders Crewe to throw the match; otherwise, Crewe will never get the pardon he's been promised. The football game that follows consumes nearly a third of the picture. ~ Hal Erickson, Rovi
News & Interviews for The Longest Yard
Critic Reviews for The Longest Yard
Audience Reviews for The Longest Yard
An inmate forms a football team to compete against the prison guards' team. Almost all sports film invariably devolve into cliches. There's something elemental about sports that creates an inherent conflict that can carry a film. The good sports films are good because of their variations -- 61*'s portrayal of Maris's innate strength of character, Sugar's focus on the unheard of players, and A League of Their Own's hot women (jk). The fact that this film is set in a prison is supposed to be its interesting variation, but I don't find the prison setting to be particularly compelling or to be used in a profound way. Its attempt at a variation is also Burt Reynolds's character, Paul Crewe. Crewe is a wise-cracking, devil-may-care kind of guy, and Reynolds made a career playing parts like this. He does it well, handsome, charming, and witty. Overall, The Longest Yard's attempts at breaking sports films' cliches aren't bad, but the film doesn't amount to anything extraordinary.
Jim Hunter
Super Reviewer
½
Decent enough sports film, The Longest Yard for me, has been s tad overhyped and its reputation slightly killed the tone of the film for me. The film is far better than the remake of course and it should be seen as one of the best sports films, but it's not one of my personal favorites. The acting is good, and the story is well constructed, but overall, I thought it was a decent film. However this film wasn't my cup of tea. The film boasts a good cast of talented actors, and this was made back in the day when Burt Reynolds was still able to make good films. The Longest Yard is an entertaining film. This film is not a film that has a comedic vibe like the remake, and that's what I like about it. Though I view this film as decent, I found good enough to be entertaining, and I did enjoy it. But the fact is, is that I felt that the film a bit too hyped up. I'm not saying that the film bad, but I'm just saying I expected something much better than this. Overall a decent sports drama with a good cast. The Longest Yard is one of those films that can easily disappoint a viewer because it has been hyped up too much. However despite this, The Longest Yard is an entertaining film that is memorable, and is a necessary viewing for sports fans. I enjoyed the film, but not as much as I'd might have if it wasn't for the hype. For me the hype killed the film. A worthwhile film to watch and an entertaining film despite the fact that it's not as great as what everyone claims it to be.
Burt Reynolds plays a football player who goes on a spree and is locked in jail and forced to play football. There are a few disturbing things, like the old gay snitch, the cell fire, the mean warden, and Burt without a moustache! There's a muddy hard labor scene. But it has good football games in it. Mean Machines was better.
Lafe Fredbjornson
Super Reviewer
The Longest Yard Quotes
| | |
| --- | --- |
| `Caretaker' Farrell: | Oh, God! I'm burning! Ahhhhhhhhhh! |
| `Caretaker' Farrell: | Oh, God! I'm burning! |
Discussion Forum
Discuss The Longest Yard on our Movie forum!