No Way Out
(1987)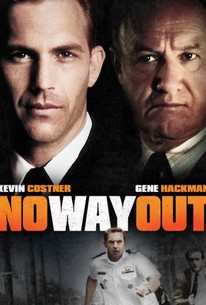 TOMATOMETER
AUDIENCE SCORE
Critic Consensus: Roger Donaldson's modern spin on the dense, stylish suspense films of the 1940s features fine work from Gene Hackman and Sean Young, as well as the career-making performance that made Kevin Costner a star.
Movie Info
No Way Out is told in flashback as Naval officer Tom Farrell (Kevin Costner) is grilled by his superiors regarding a recent "unpleasantness." While at a Washington party, Tom meets Susan Atwel (Sean Young), and they're soon sharing a steamy love scene in the back of a limo (marvelously parodied in 1993's Hot Shots! Part Deux). Several months pass before Tom meets Susan again; he discovers she's the mistress of the US Secretary of Defense David Brice (Gene Hackman). When Susan is murdered by Brice, his loyal aide (Will Patton) dutifully destroys the evidence and invents the fallacious theory that a KGB mole was responsible. Tom is assigned to locate that mole -- a perilous situation, since Tom knows that no such mole exists, but must go along with the charade since he was the last person who was seen with Susan.
People Who Like this movie also like
News & Interviews for No Way Out
Critic Reviews for No Way Out
Audience Reviews for No Way Out
½
This is a pretty damn good and entertaining suspense/thriller. This is one of those movies that keeps getting better is it goes along and it, most definitely, ends on a high note. If I had a problem with the film is that, until Susan's death, the romance between her and Tom was a little corny. The acting is strong all around, but I didn't find these parts particularly intriguing. Not bad, but not memorable either. When Susan is murdered, that's when the movie kicks into high gear. I found the mystery surrounding the investigation, even though everything, up until the twist, seems pretty cut and dried as to the events that happened. You get to see this story of this man, Will Patton, who's so loyal to David Brice that he's willing to do anything, and I do mean anything, to make sure that Brice is not implicated in the murder by using this cover story of a KGB agent that's infiltrated the Department of Defense. Since Will Patton's character is such a manipulator, and the brains, of the entire investigation, you never for a second doubt Tom's innocence. Which is where the twist comes in. I'm assuming anyone who reads this will be able to put two and two together, but I'm still not gonna spoil it as it would ruin most of the fun of the movie. The thing about the twist is that it's actually really very logical and fits in with the theme of the movie perfectly. The problem with most twists nowadays is that a lot of them are just done because it's shocking and not because it actually makes sense within the story you're telling. It's tremendous when you think about it because you really think that the twist itself is a red herring and something meant to throw you off what is actually happening. The twist in this movie is genius to be honest, it's surprising but completely logical within the story they're telling. And the movie is just really exciting and fun to watch once Susan dies. I must make mention of Will Patton, who is absolutely tremendous as the main villain. He's such a perfect prick, a man who will do anything to keep his position of power. He's also a highlight in the film. So all in all, this is a really entertaining thriller with a great twist. Great acting from all involved too, so I can't complain that much other than the really corny romance.
Jesse Ortega
Super Reviewer
Minister of Defense David Brice (Gene Hackman) accidently kills his mistress Susan (Sean Young) and his secretary Scott Pritchard (Will Patton) devices a ploy to frame someone else. They launch a full scale investigation claiming that the man this woman was seeing was a soviet spy (Yuri) within the Pentagon and they must find this man. Brice appoints his own investigator to find the presumed killer but the catch is that the investigator is the man they're hunting for. Kevin Costner is also excellent as Tom Farrell who finds out that his girlfriend has been killed and can't show any emotion without giving up the fact that he was involved with her. Will Patton steals the show in my opinion with a brilliant portrayal of absolute loyalty. NO WAY OUT is an almost perfect thriller about a man who finds himself entangled in a situation in which there is seemingly, well, no way out. Once the murder happens, the movie kicks into high gear keeping you on the edge of your seat. This is a riveting, thought-provoking, and fast paced thriller, with plenty of plot twists and turns and I was blown away by the surprise twist at the end. .
½
Costner vehicle saved from total mediocrity by, yet again, Gene Hackman (he should've belonged to International Rescue the number of dreary Hollywood thrillers he's salvaged...) Decent twist at the end, too.
No Way Out Quotes
| | |
| --- | --- |
| David Brice Secretary of Defense: | strange ending,big time. Gene Hackman doesn't get charged or caught for his actions, weird to say the least. |
| David Brice Secretary of Defense: | Strange ending, big time. Gene Hackman doesn't get charged or caught for his actions, weird to say the least. |