Rage
(1972)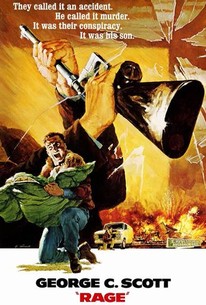 AUDIENCE SCORE
Critic Consensus: No consensus yet.
Movie Info
In this grim actioner, the directorial debut of distinguished actor George C. Scott, a widowed rancher and his young son go to Wyoming for a camping trip and end up accidentally sprayed by an experimental, deadly nerve gas. They are sleeping when the fateful substance is dropped. The next morning the father finds that many sheep are dead and that his son is unconscious. His nose bleeds heavily. The father rushes the boy to the hospital and the doctor suggests that the father also undergo a few tests. Unfortunately, the army gets wind of them and replaces the doctor with one of their own; he has been given orders to keep father and son apart; so the new physician heavily sedates the man and whisks the dying boy away. When the father awakens, the doctor assures him that the child is well, but its a lie; the boy is dead. Meanwhile, the ranchers are all puzzled by the death of their stock and frustrated because authorities remain tight-lipped to prevent panic and to keep the father around to see how the gas will affect him and how he will eventually die. The father continues to wander about the hospital under heavy guard, but they cannot prevent him from seeing the disposal of his dead son's clothing. He manages to overpower his guards and force a doctor to tell him the truth. The bereaved father, realizing he only has a few hours left to live, goes berserk with grief and rage. He then busts out to spend his final moments getting bloody revenge. Tragedy ensues.
Critic Reviews for Rage
There are no critic reviews yet for Rage. Keep checking Rotten Tomatoes for updates!
Audience Reviews for Rage
½
Not bad drama but the ending is weak.
George C. Scott's interesting drama is well-acted and nicely directed by him. It concerns a peaceful rancher who goes out camping one night on his land with his beloved 12 year old son. When the military accidentally dumps a fatal dose of experimental nerve gas over his Wyoming ranch, killing his livestock and his son, and infecting him with the same fate. The military quickly drops a veil of secrecy over the "incident," when Scott discovers that his son has been dead for two days, and no one has told him nothing but lies, the embittered father goes on a deadly rampage against the military. George C. Scott delivers a solid forceful performance as the enrage rancher, and veteran actors Richard Baseheart and Barnard Hughes also give superb performances. But it is young Martin Sheen, who is the standout as a cool, manipulative army medical specialist who is part of the cover-up and is fully aware of the military's guilt. A tense unsettling film. Recommended
Danny Rovira
Super Reviewer
The 1 thing I'll always remember about this movie is the look on George C. Scott's face when he was driving away after blowing up the Army lab.It was pure EVIL! It was an OK movie but nothing I'd recommend.I can't believe I read it was released in the theater because it definitely has that Made For TV feel
Brody Manson
Super Reviewer
Rage Quotes
There are no approved quotes yet for this movie.
Discussion Forum
Discuss Rage on our Movie forum!