The Thing
(1982)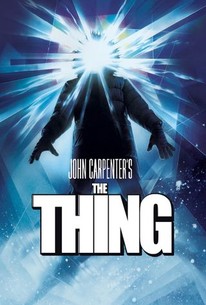 TOMATOMETER
AUDIENCE SCORE
Critic Consensus: Grimmer and more terrifying than the 1950s take, John Carpenter's The Thing is a tense sci-fi thriller rife with compelling tension and some remarkable make-up effects.
Movie Info
John Carpenter's The Thing is both a remake of Howard Hawks' 1951 film of the same name and a re-adaptation of the John W. Campbell Jr. story "Who Goes There?" on which it was based. Carpenter's film is more faithful to Campbell's story than Hawks' version and also substantially more reliant on special effects, provided in abundance by a team of over 40 technicians, including veteran creature-effects artists Rob Bottin and Stan Winston. The film opens enigmatically with a Siberian Husky running through the Antarctic tundra, chased by two men in a helicopter firing at it from above. Even after the dog finds shelter at an American research outpost, the men in the helicopter (Norwegians from an outpost nearby) land and keep shooting. One of the Norwegians drops a grenade and blows himself and the helicopter to pieces; the other is shot dead in the snow by Garry (Donald Moffat), the American outpost captain. American helicopter pilot MacReady (Kurt Russell, fresh from Carpenter's Escape From New York) and camp doctor Copper (Richard Dysart) fly off to find the Norwegian base and discover some pretty strange goings-on. The base is in ruins, and the only occupants are a man frozen to a chair (having cut his own throat) and the burned remains of what could be one man or several men. In a side room, Copper and MacReady find a coffin-like block of ice from which something has been recently cut. That night at the American base, the Husky changes into the Thing, and the Americans learn first-hand that the creature has the ability to mutate into anything it kills. For the rest of the film the men fight a losing (and very gory) battle against it, never knowing if one of their own dwindling number is the Thing in disguise. Though resurrected as a cult favorite, The Thing failed at the box office during its initial run, possibly because of its release just two weeks after Steven Spielberg's warmly received E.T.The Extra-Terrestrial. Along with Ridley Scott's futuristic Alien, The Thing helped stimulate a new wave of sci-fi horror films in which action and special effects wizardry were often seen as ends in themselves. ~ Anthony Reed, Rovi
People Who Like this movie also like
News & Interviews for The Thing
Critic Reviews for The Thing
Audience Reviews for The Thing
½
Carptenter's horror classic is still one of the most drastically gory films of all times. Sure, the splatter effects did not age well, but some of them still make you really uneasy. Other than that the film works mostly thanks to its atmosphere and location. Still, some parts seem to drag on and hardly any of the characters grow on you enough to care about anything that's going on. Still got mixed feelings about this. It's just a little too ugly for my taste, even if you can't blame the creators for what they set out to deliver here.
Helped by an evocative score and by astounding make-up and special effects, this gruesome sci-fi thriller is suspenseful and creates a highly claustrophobic atmosphere of nerve-wracking paranoia and tension, where no one knows who to trust and anyone can be The Thing.
Carlos Magalhães
Super Reviewer
½
Total remake of an old horror/sci-fi film using an age old idea/fear of an alien creature infiltrating a human base and then humans themselves...its suppose to make your skin crawl. A bit of a failure at the box office upon release but this was mainly down to the tough competition of 'Blade Runner' and the friendly alien 'E.T.'. Despite that the film came into its own once hitting the video market and became something of a cult. Personally I think its a good solid film but its never appealed greatly due to its shape shifting alien that is simply surreal to the extreme. Of course the effects are the main showcase of the film and back in 82 they were pretty special, by today's standards on a recent viewing they have aged badly and do look (of course) rather plastic and fake BUT they do still hold up as, unlike CGI, they are actually real. The imagination of Bottin is clearly let loose big time for the alien as he goes way off the wall coming up with all manner of combinations aimed at making you feel uneasy, and it does work. Utilizing spider forms, snake/eel forms, things growing or under the skin, being violated and having something germinate within you etc...all good stuff to make you squirm. The suspense and bleakness is handled well by a young Carpenter (much like 'The Fog') and examines how quickly people break down and turn on each other. All the set work is cruel and cold looking, good location work and with nice elements of 'Alien' used throughout including the isolated oddball crew at the base which does remind you of the Nostromo crew. Its definitely a thriller of a ride with some stand out moments which leave you wanting to know more about the creature and its background. The film just loses its wallop near the end as the creature doesn't look quite as cool as previous incarnations, edging down the B-movie route a touch but the one thing I do like about the film is the way Carpenter bookended it. Its pretty much open at both the start and finish leaving you to think about what came before and what happens after, the final sequence with Russell and David is quite original and unique as the heroes/main leads pretty much fail. Best moment in the film for me has to be the Norris chest bursting sequence revealing a large razor toothed maw where his torso once was, highly original and, at the time, quite surprising.
Phil Hubbs
Super Reviewer
The Thing Quotes
| | |
| --- | --- |
| R.J. MacReady: | Why don't we just wait here for a little while, see what happens? |
| | |
| --- | --- |
| Nauls: | Maybe we at war with Norway. |
| | |
| --- | --- |
| Childs: | Cut me loose, dammit! |
| | |
| --- | --- |
| Garry: | This is pure nonsense. It doesn't prove a thing. |
| MacReady: | I thought you'd feel that way, Garry. You were the only one that could've gotten to that blood. We'll do you last. |
Discussion Forum
Discuss The Thing on our Movie forum!