The Twelve Chairs
(1970)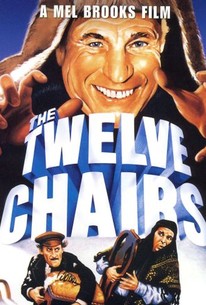 Movie Info
In this farce, a civil servant discovers that he is heir to a vast fortune, which is hidden in one of a set of twelve chairs. Unfortunately, the chairs have been scattered to locations unknown, and the man must compete with a greedy priest in his quest for the riches.
Critic Reviews for The Twelve Chairs
Audience Reviews for The Twelve Chairs
½
This is really the "odd man out" in Brooks' filmography, but that's not a bad thing . . . in fact I'd say its one of his best films. Its an effective meld of farcical humor with a story that has actual substance. The performances of Moody, Langella, DeLuise, and Brooks are all top notch.
Alec Barniskis
Super Reviewer
Although this is a much different film than Brooks' other films, having been based on an old Russian novel instead of being a spoof of another film, it is just as fun. It's very funny, the characters are wacky, and there are some good actors too. A good movie.
An art house late night weekend favorite back in the day (like Rocky Horror), a dying woman tells of a hidden treasure --- setting off a crazy cross-country race for the loot played for yucks. Sound familiar? Like Its A Mad, Mad, Mad, Mad World (made 7 years prior)? Well it IS different. This chase is through post revolutionary Russia! Expect jokes about how well communism was not working, comrade. An early effort by Brooks that has some smiles in it. Hope for the best ... ( expect the worst ).
Kevin M. Williams
Super Reviewer