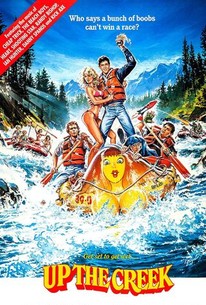 Up the Creek
1984, Comedy, 1h 35m
2 Reviews
1,000+ Ratings
Rate And Review
Movie Info
In order to graduate from college, four students must give in to their blackmailing dean's demand that they enter a raft race. Bob McGraw (Tim Matheson), Max (Dan Monahan), Gonzer (Stephen Furst) and Irwin (Sandy Helberg) must compete against a team from Ivy University as well as a hardened team from a nearby military school. Sparks fly between Bob and a new teammate, while the captain of the military team plots revenge against the foursome, and the Ivy team schemes its way to the top.
Rating: R

Genre: Comedy

Original Language: English

Director: Robert Butler

Producer: Michael L. Metzer, Fred Baum

Release Date (Theaters): limited

Release Date (Streaming):

Runtime:

Production Co: Orion Pictures
Audience Reviews for Up the Creek
This is a considerably better movie than Zapped, even though this gets half a star rating higher than the Scott Baio disaster. The reason that Zapped got the rating it did was because it entertained me with how awful it actually was. This, on the other hand, is a competently made raunchy 80s movie. Again, a lot of its charms rely on the fact that it's something that you simply don't see a lot of nowadays, not to mention that there's some legitimately funny moments in the film. Not like I would call the movie consistent or anything, but the film made me laugh more than a couple of times. The thing about these types of films is that, with various exceptions, the roles are very clearly defined. The characters are as one-dimensional as humanly possible. You have the rich, preppy douchebags, the jock assholes, the princesses, the nerds and the lovable losers. This movie is no different, there's literally no character development to speak of and I think the film sort of embraces that, because that means that they can make the situations the film presents as entertaining as humanly possible. Not saying that every scenario this film presents hits, but there's a decent percentage of them that do. This film heavily inspired a Futurama episode I really like where Bender, the robot, goes back to the university and he, and his team of losers, must win a raft race or else have their fraternity expelled from college. The fraternity being expelled from the college is borrowed from Animal House, but the rest of the episode is clearly taken from this movie. I honestly haven't seen that episode of Futurama in a long-ass time, but it's probable that that episode ended up being better than this movie. That's not to shit on this movie, even if, again, I wouldn't call it good, that's just how well-written Futurama was. I don't know what else to say about this movie honestly. The tone of the movie is always kept light, it doesn't ever really take itself seriously, like at all, and the cast is decent. Tim Matheson is good here as the smooth-talking lead man even if, at 37 years old by this movie's release, he was a little too old to play the young college kid. That's probably one of the more laughably bad elements of the film, trying to pass Matheson as someone in his 20s. Not that he looked old, but I mean come on. With that said, this is a quintessentially 80s movie, for better or worse. It may have been blown away by this, but I didn't feel like I wasted my time watching this and I enjoyed it in parts. But, looking at things objectively, this isn't a good movie. It has its moments and, again, its anachronisms are part of what I enjoyed about it, but that's not something that you can actually quantify in terms of a review. Like it can't be the reason you think a movie is good, because that was never intended to be part of it, how it looks to an audience 30 years into the future. Can't really recommend it, but I got moderate enjoyment out of this film, which, realistically, is average at best.

One of the better T & A comedies from the 80s due largely to the fact it's actually funny. Unfortunately it is one of the last five films still somehow not available on DVD.

Was lucky enough to find a old VHS tape of this pure 80's gem.Has aged badly but they dont make them like this any more.A cross between Porkys and animal house its just crazy fun.Worth checking out if you can find it....

It was fine to watch... once.
See Details