Night Nurse
(1931)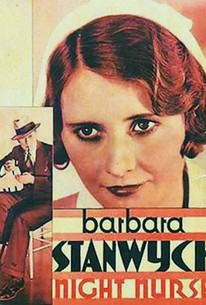 Movie Info
Even by pre-Production Code standards, Night Nurse is pretty raw meat. Barbara Stanwyck appears in various states of dishabille as Lora Hart, a nurse hired as a governess for the children of alcoholic socialite Mrs. Ritchie (Charlotte Merriam, who replaced Mildred Harris during shooting). Lora is shocked at the degree to which kids have been neglected by their tosspot mother and even more shocked at the behavior of Mrs. Ritchie's chauffeur Nick (Clark Gable), who seems to have a sinister influence over the household. A grade-A louse, Nick has concocted a scheme to starve the two kids to death then gain control of their trust fund by marrying Mrs. Ritchie. Advised by her best friend Maloney (Joan Blondell) to call the cops, Lora is browbeaten into silence by the brutish Nick. But help arrives in the form of Mortie (Ben Lyon), a likeable bootlegger who cheerfully uses his mob connections to put Nick "on the spot."
Critic Reviews for Night Nurse
Audience Reviews for Night Nurse
Cutesy and melodramatic. A nice example of young Stanwyck honing her craft.
Randy Tippy
Super Reviewer
½
Stanwyck is an ordinary nurse until she learns of malpractice and has to fight for the life of her patient.
'Night Nurse' A Naughty Innocuous Mystery I've never seen a Barbara Stanwyck film. Ever. Not even "Double Indemnity," but that one's coming sometime, so blow the story for me and you're off my friends list!! This one is very early in her career and I believe one of those vehicles that the studios made to showcase a particular actress to see if they have a chance at becoming a star. She gets her name in huge letters before the title, but poor Clark Gable gets 4th billing among all the other card-punchers. OK, there's Joan Blondell too. I watched this based on Leonard Maltin's recommendation, and I blurb: "Excellent, hard-bitten tale...Still potent today." That caveat because this was made in 1931. Leonard's biggest fault (besides hiring useless hacks to help review current movies) is his over-admiration of some pre-50s cinema. Hey, the guy wrote a book about it. While they may have packed them in 50 years ago, some films simply don't age well and he sometimes does not account for shifted sensibilities. Such is the case with "Night Nurse." You can see Stanwyck's star power in the making - I *will* have to watch more of hers - but the promised potent, hard-bitten scenes mostly amount to Gable (playing the heavy - hey I can speak Prohibition) squaring his shoulders while standing in a doorway. Not exactly edge-of-seat material, more in the glance-at-watch category. Beyond Stanwyck & Gable in early roles, the main entertainment value comes from Blondell as comic relief and the fact this was released pre-Motion Picture Code which strove to make movies wholesome. Therefore we get illegal hooch, drunken parties, and no fewer than 3 gratuitous scenes of the actresses in their underwear. While even Bridget Jones would balk at the bloomers they wore, to a '30s cinemagoer it must've been like watching an Andy Sedaris movie.
Doctor Strangeblog
Super Reviewer
Night Nurse Quotes
There are no approved quotes yet for this movie.
Discussion Forum
Discuss Night Nurse on our Movie forum!