Unforgiven
(1992)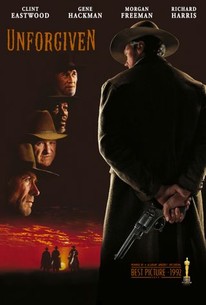 TOMATOMETER
AUDIENCE SCORE
Critic Consensus: As both director and star, Clint Eastwood strips away decades of Hollywood varnish applied to the Wild West, and emerges with a series of harshly eloquent statements about the nature of violence.
Movie Info
Dedicated to his mentors Sergio Leone and Don Siegel, Clint Eastwood's 1992 Oscar-winner examines the mythic violence of the Western, taking on the ghosts of his own star past. Disgusted by Sheriff "Little Bill" Daggett's decree that several ponies make up for a cowhand's slashing a whore's face, Big Whiskey prostitutes, led by fierce Strawberry Alice (Frances Fisher), take justice into their own hands and put a $1000 bounty on the lives of the perpetrators. Notorious outlaw-turned-hog farmer William Munny (Eastwood) is sought out by neophyte gunslinger the Schofield Kid (Jaimz Woolvett) to go with him to Big Whiskey and collect the bounty. While Munny insists, "I ain't like that no more," he needs the bounty money for his children, and the two men convince Munny's clean-living comrade Ned Logan (Morgan Freeman) to join them in righting a wrong done to a woman. Little Bill (Oscar-winner Gene Hackman), however, has no intention of letting any bounty hunters impinge on his iron-clad authority. When pompous gunman English Bob (Richard Harris) arrives in Big Whiskey with pulp biographer W.W. Beauchamp (Saul Rubinek) in tow, Little Bill beats Bob senseless and promises to tell Beauchamp the real story about violent frontier life and justice. But when Munny, the true unwritten legend, comes to town, everyone soon learns a harsh lesson about the price of vindictive bloodshed and the malleability of ideas like "justice." "I don't deserve this," pleads Little Bill. "Deserve's got nothin' to do with it," growls Munny, simultaneously summing up the insanity of western violence and the legacy of Eastwood's Man With No Name. ~ Lucia Bozzola, Rovi
News & Interviews for Unforgiven
Critic Reviews for Unforgiven
Audience Reviews for Unforgiven
½
Eastwood deconstructs the Western myths with this dark, realistic film devoid of any of that romanticism of the Wild West - a glorious farewell for the genre with a melancholic score, an epic cinematography and a lot of tension that builds towards a brutal, fantastic ending.
Carlos Magalhães
Super Reviewer
A very good Western. Eastwood is grand.
½
I'm a little undecided on the specific rating, being torn betweeen a 4 and a 4 1/2, so let's just call it around a B+ to an A-. When this film can out, it was fairly obvious that it was intended to be the western to end all westerns, the one to bring the genre to a close. That obviously didn't happen, but it did do a fantastic job at demythologizing things, and showing the consequences of violence, guilt, closure. It's a great film, but not without flaws. It's a bit too long, and drags in places, some of the material is a bit unnecessary, and the stuff with English Bob could have been trimmed and reworked. Also, the prologue and epilogue, I think, could have been tweaked a little as well. All that aside, this is a wonderful character study. The cast are really good, and they give some tremendous performances. Pretty much everyone shines. I really liked Frances Fisher, though. Eastwood and Hackman have a great confrontation, and Freeman just finds the right notes with his character. The film is violent, but not in a ridiculous, WIld Bunch kind of way. The cinematic way the violence and showdowns are handled subvert expectations, and are handled in a startingly (yet artful) way. There's a chilling aspect to the matter of fact callousness of things which really lend strength and credibility to the film's themes and thesis. This is some really great stuff, but not perfect. It's a little overrated, and seems dated now, but it's nevertheless a fantastic and entertaining work of art.
Chris Weber
Super Reviewer
Unforgiven Quotes
| | |
| --- | --- |
| The Schofield Kid: | Yea...well I guess they had it comin'. |
| William Munny: | We all have it comin' kid. |
| | |
| --- | --- |
| Bill Munny: | Anybody don't want to get killed, better head on out the back. |
| | |
| --- | --- |
| Sheriff "Little Bill" Daggett: | I'll see you in hell Bill Munny |
| Sheriff "Little Bill" Daggett: | I'll see you in hell Bill Munny. |
| | |
| --- | --- |
| Will Munny: | I've killed women and children. I've killed everything that walks or crawls at one time or another. And I'm here to kill you, Little Bill, for what you done to Ned. |
Discussion Forum
Discuss Unforgiven on our Movie forum!