Nowhere to Run
(1993)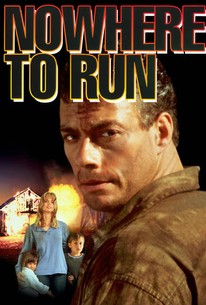 Movie Info
An escaped convict fights for his rights while hiding out from the law in this action drama. Sam Gillen (Jean-Claude Van Damme) is a thief who, despite his criminal past, is an essentially decent man; he ended up behind bars after taking a murder rap for his partner. Sam escapes from prison in a daring jailbreak, and he hides out on a remote farm while on the run from police. A young boy named Mookie (Kieran Culkin) finds the fugitive and takes him in; it seems that the farm belongs to his mother Clydie (Roseanna Arquette), and soon Mookie and his sister Bree (Tiffany Taubman) have become friends with Sam, and Clydie and Sam fall in love. However, Franklin Hale (Joss Ackland), an unscrupulous land developer, wants to buy Clydie's farm and isn't taking no for an answer. When Hale's thug Dunston (Ted Levine) tries to use force to drive Clydie off her property, Sam is ready to fight fire with fire. Nowhere to Run was co-authored by noted screenwriter Joe Eszterhas; Richard Marquand received his story credit posthumously. ~ Mark Deming, Rovi
Critic Reviews for Nowhere to Run
Audience Reviews for Nowhere to Run
½
If you were a hot woman in the 90s, chances are you were on a Van Damme movie. Van Damme also had plenty of good actors as the bad guys, in this case Ted Levine, it is a shame that the script is just complete crap and just an excuse for Van Damme to bed said hot woman (Arquette) and beat the crap out of said bad guy in climatic final battle, but right after a bunch of pointless stuff that you don't care about.
Tsubaki Sanjuro
Super Reviewer
In "Nowhere To Run," Jean-Claude Van Damme plays as Sam, an escaped convict who ends up staying on a small farm with Clydie (Rosanna Arquette) and her two kids. However, he finds out that he has some new enemies while he's staying there, including a jealous cop and some men who are trying to take away the farm that Clydie and her two kids live on. I recommend anybody who likes Van Damme movies to get "Nowhere To Run." If you aren't familiar with Van Damme's other movies, this would be a good movie to get to get you familiar. It doesn't have as much fighting in it as most of his other movies do, but it certainly doesn't lack in action. You'll see some great action sequences such as when Van Damme is trying to find a place to run from the police by riding a motorcycle. It has more drama than most of the other Van Damme movies, but it's still a good one. NOTE: That was my Amazon review from the year 2000. Van Damme just rocks. Sad to see him getting older :-(
Jason Owens
Super Reviewer
½
A pretty plain action movie but with enough of a story to keep you interested for the run time.
Jason Spencer
Super Reviewer
Nowhere to Run Quotes
There are no approved quotes yet for this movie.