Sudden Death
(1995)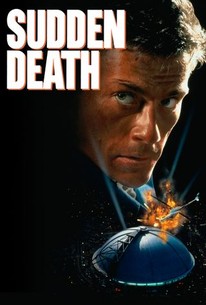 Movie Info
Pittsburgh Penguins owner Howard Baldwin was the producer of Sudden Death, and the action is set in his hockey arena, in which the Penguins are playing the Chicago Blackhawks. Pittsburgh fire inspector Darren McCord (Jean-Claude Van Damme) is attending the game with his two children. He's quit fighting fires because of a tragedy a few years earlier involving a child he couldn't save. Also at the game is the vice-president of the United States (Raymond Barry), who is the target of a terrorist plot. The terrorist leader, an insane ex-CIA agent named Joshua Foss (Powers Boothe), has masterminded a scheme to hold the vice-president hostage in his luxury suite while demanding that payments be transferred to his account electronically at the end of each period of the game. If he doesn't get his money, he will kill one member of the vice-president's party at the end of each period, and at game's end he will order ten bombs hidden in the arena to be detonated with all 17,000 fans present. McCord discovers the plot while his daughter Emily (Whittni Wright) is kidnapped by the terrorists too. McCord must dispatch the villains and find the bombs, while saving all the hostages. Luckily, he is adept at martial arts. He fights one henchman dressed in a Penguins mascot outfit in the arena's kitchen, and another terrorist on the arena's retracting dome. At one point, McCord switches identities with a player, is sent into the game, and scores a goal. Director Peter Hyams also directed Van Damme in the blockbuster Timecop. ~ Michael Betzold, Rovi
People Who Like this movie also like
News & Interviews for Sudden Death
Critic Reviews for Sudden Death
Audience Reviews for Sudden Death
This is a pretty good 'Die Hard' style flick, 'Die Hard' in a ice hockey stadium haha the villian, Boothe is pretty nasty and the action is good and strong. The final scene is abit over the top but this is a good action effort.
Phil Hubbs
Super Reviewer
Really really typical 90's action flick...with on exception... Jean Claude Van Damme fights a penguin.
Ken Stachnik
Super Reviewer
Tsubaki Sanjuro
Super Reviewer
Sudden Death Quotes
There are no approved quotes yet for this movie.