Fear
(1996)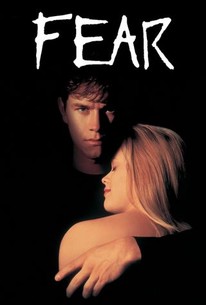 Movie Info
Mark Wahlberg stars in one of his first features as a hoodlum drug dealer from the wrong side of the trackswho falls in love with Nicole Walker, an upper-middle-class high school girl (Reese Witherspoon). In this psycho-drama (with the emphasis on psycho), Nicole happily loses her virginity to her first love, but, when she begins to doubt the relationship, his tenderness turns to violence, as he stalks and terrorizes her and her friends and family. The girl's father never trusted him in the first place, but his reservations about his daughter's first serious boyfriend are interpreted as Oedipal paranoia, until the boy and his drug-dealing, date-raping buddies besiege the overly fortified house in a twisted attempt to win back Nicole's love. The Seattle setting juxtaposes a grunge rock underworld with an over-privileged suburban household, and includes a very sexual ride on a roller-coaster. And yes, former underwear model Wahlberg appears shirtless several times. ~ Laura Abraham, Rovi
People Who Like this movie also like
News & Interviews for Fear
Audience Reviews for Fear
Good thriller, and the movie that introduced me to Reese Witherspoon. Still enjoy it many years later. How did I only just notice David has a Chucky doll in his room!
Nicki Marie
Super Reviewer
½
The decent right-side-of-the-tracks family unit is threatened by local not-so-right-side thug types in this thriller that borrows extensively from Peckinpah's "Straw Dogs" (1971). Wahlberg and Peterson do well as the tension mounts for the big winner-takes-all showdown but the final payoff's a trifle abrupt.
Kevin M. Williams
Super Reviewer
½
The first hour is nothing to get worked up about, which is why I can't give this a particularly high rating. But do not despair - the ending is sure worth the wait! Reese Witherspoon's character Nicole can sometimes be downright painfully gullible and naïve when it comes to all the crap David is shoving down her throat, but hey, let's be honest here: some teen girls really are.
vieras esine
Super Reviewer
Fear Quotes
| | |
| --- | --- |
| David McCall: | Hey Mr. Walka! |
| | |
| --- | --- |
| Nicole Walker: | Everybody says one thing and then does another. |
| | |
| --- | --- |
| David McCall: | Nicole, get me a Coke. |
| | |
| --- | --- |
| David McCall: | You filthy little whore! |