Independence Day
(1996)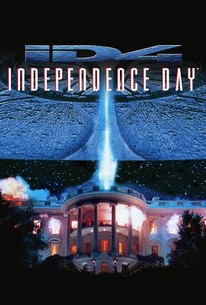 TOMATOMETER
AUDIENCE SCORE
Critic Consensus: The plot is thin and so is character development, but as a thrilling, spectacle-filled summer movie, Independence Day delivers.
Movie Info
A group of intrepid humans attempts to save the Earth from vicious extraterrestrials in this extremely popular science-fiction adventure. Borrowing liberally from War of the Worlds, Aliens, and every sci-fi invasion film inbetween, director Roland Emmerich and producer and co-writer Dean Devlin present a visually slick, fast-paced adventure filled with expensive special effects and large-scale action sequences. The story begins with the approach of a series of massive spaceships, which many on Earth greet with open arms, looking forward to the first contact with alien life. Unfortunately, these extraterrestrials have not come in peace, and they unleash powerful weapons that destroy most of the world's major cities. Thrown into chaos, the survivors struggle to band together and put up a last-ditch resistance in order to save the human race. As this is a Hollywood film, this effort is led by a group of scrappy Americans, including a computer genius who had foreseen the alien's evil intent (Jeff Goldblum), a hot-shot jet pilot (Will Smith), and the President of the United States (Bill Pullman). While some critics objected to the film's lack of originality and lapses in logic, the combination of grand visual spectacle and crowd-pleasing storytelling proved irresistible to audiences, resulting in an international smash hit. ~ Judd Blaise, Rovi
People Who Like this movie also like
News & Interviews for Independence Day
Critic Reviews for Independence Day
Audience Reviews for Independence Day
Good film. A bit too unrealistic for my taste but good enough.
Will Smith and hostile aliens???
What more can I say about one of the best action flicks of 1996.
Mister Caple
Super Reviewer
½
Devlin and Emmerich are hardly known for their sophistication and subtlety, and this big budget B-movie certainly won't change any minds on that score. It follows the summer blockbuster formula to the letter, but it is done with enough tongue in cheek humour to make it a hugely enjoyable experience. The action is all very gung-ho and flag waving (I'm still not sure if the president's "Independence Day" speech is meant to be taken seriously, but it always raises a laugh from me!) but thrillingly done; the dogfight through a canyon is as exciting as Hollywood action gets, and you can't help but cheer for Randy Quaid's boozy abductee in the climactic battle. Jeff Goldblum is at his least irritating and has some fantastic banter with his crotchety Jewish father played to perfection by veteran comic Judd Hirsch. The characters are all walking cliches and the characterisation just a load of soapy melodrama but it's little more than mercifully brief window dressing for the rollercoaster ride of the alien invasion. The ground breaking effects still look good today and it's great entertainment if you don't take it too seriously; big, dumb and a lot of fun.
Independence Day Quotes
| | |
| --- | --- |
| Julius Levinson: | Look at us. Everybody's trying to get out of Washington, and we're the only schmucks trying to get in. |
| | |
| --- | --- |
| President Thomas J. Whitmore: | I'm a combat pilot, Will. I belong in the air. |
| | |
| --- | --- |
| Capt. Steven Hiller: | Welcome to Earth. |
| | |
| --- | --- |
| Miguel Casse: | Just what the hell do you think you're doing? It's the wrong field, you idiot! Lucas' farm is on the other side of town! |
| Russell Casse: | Are you sure? |
Discussion Forum
Discuss Independence Day on our Movie forum!