Foxfire
(1996)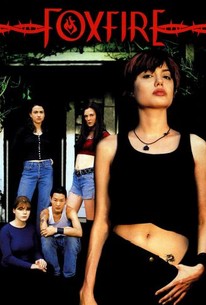 Movie Info
Loosely based on the book Foxfire by Joyce Carol Oates, this film is about four high-school girls, dissimilar in every other way, who find that they are all being made to perform sexually with their biology teacher. This discovery leads them to become allies and friends. Shortly afterward, they exact revenge on their teacher at the cost of being expelled from school. Taking up residence in an abandoned house in the woods, they practice some rather sexy bonding rituals between themselves. Thanks to the efforts of their ringleader Legs to get drug rehab money for one of the girls, they find themselves on the wrong side of the law, and the chase begins.
Critic Reviews for Foxfire
All Critics (10) | Top Critics (4) | Fresh (3) | Rotten (7) | DVD (1)
Joyce Carol Oates and her fans will be disappointed by this trivial and muddled screen version of her popular novel about female bonding and empowerment.
February 6, 2008 | Rating: C-

About four female friends who take delight in exploring their capacity for anarchy.
Audience Reviews for Foxfire
Angelina Jolie, Dash Mihok, Hedy Burress, Peter Facinelli The story of five teenage girls who form an unlikely bond after beating up a teacher who has sexually harassed them. They build a solid friendship but their wild ways begin to get out of control. ~~~~~~~~~~~~~~~~~~~~~~~~~~~~~~~~~~~~~~~~~~~~~~~~~~~~~~~~~~~~~~ Really liked this movie. Some of the early works of Angelina Jolie. Thought she was great in it. Loved how all the girls, even though are very different from each other, come together and kick their perverted teacher's ass. LOL.. Shows you that one event in your life can bring you to befriend some people you would normally never even have a conversation with. A "girl power" movie.
♥˩ƳИИ ƜѲѲƉƧ♥
Super Reviewer
Not all that great. It was trying to be edgy and smart but was none of that. Mostly it was an excuse to have a scene where the girls take their shirts off.
Jason Spencer
Super Reviewer
an early film for angelina jolie and peter facinelli. jolie showed glimpses of her future greatness, which was the only reason this film doesnt drop to a half a star. this movie was absolutely terrible. there was nothing redeeming about it at all. it would have made a better slasher flick. some zombie should have shown up and killed some of the silly girls in this, then it might have been a 1 1/2 star movie.