The King of Kings
(1927)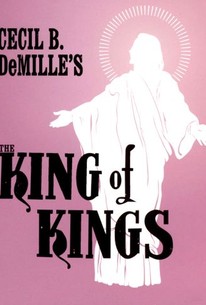 Movie Info
The Biblical story of Jesus Christ -- from his early years through the Resurrection -- is rendered with equal parts sanctity and melodramatic spectacle. Cecil B. DeMille's follow-up to his successful The Ten Commandments (1923) has portions filmed in Technicolor and was remade in 1961.
Critic Reviews for The King of Kings
Audience Reviews for The King of Kings
This is an example of the book being much better than the film. The film provides some iconic "stained glass" images - but sadly, the images of Christ have always taken on greater cultural significance than the man Himself, or the book that tells about Him. There are some interesting revisions of the Gospel Epic in this film, and scenes were built around scripture verses taken out of context and strung together to create a linear narrative. There are scenes wherein assumptions made, and connections implied that are not actually in scripture . . . all in all, as a Christian, this left me pretty cold, and even a bit disturbed by its shallow portrayal of Christ, sensationalization and lack of substance.
J. Scott Fugate
When a confirmed atheist finds a movie about the life of Christ moving, it must be special. This is. Having seen nearly all the Biblical epics over the years, "King Of Kings" is clearly the best. It has all the earmarks of a DeMille film- cast of thousands, scantilly clad girls gyrating around, and all of that. It also has one of the best reveals in film history; the first time we see Jesus, thru the eyes of a miraculously healed blind girl, is moving. A must-see during holiday times.
David Gordon
½
Awesome silent-film version of the Jesus myth, replete with some vintage sets and an easy to follow, dry recounting of the events shortly before and after the crucifixion (Using Scripture snippets themselves). I think I am biased, as biblical adaptations have always immensely fascinated me, but I still think this film is epic enough to stand on its own two feet, over eighty years after it was filmed. The perspective is from the New Testament, so Judaism is second class, and there's proselytizing ulterior motives, but the more zealous a religious director, the better the movie experience. For seriously diverse juxtaposing, see this alongside The Passion of the Christ; both films are practically one in the same in terms of structure, script and purpose, but with obvious decade distinctions.
Richard Cranium
The King of Kings Quotes
There are no approved quotes yet for this movie.
Discussion Forum
Discuss The King of Kings on our Movie forum!