Tango
(1998)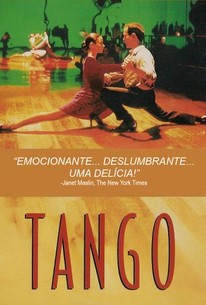 Movie Info
MARIO SUAREZ launches himself into the making of the ultimate film about Tango. Using poignant, beautifully stirring tango music as a source of inspiration, Mario searches to find a narrative thread which will hold it all together. Images of his own life (his successful career, his mid-life crisis, his ex-wife) converge in Mario's movie, revolving around riveting dance numbers of requited and unrequited love. While out scouting for talent at a Milonga bar, Mario is introduced to Angelo Larroca, a gangster and financier of Mario's film. Angelo asks Mario to audition his mistress, Elena, a gifted and stunning young dancer. Mario and Elena become entangled in a passionate and dangerous love affair. Elena's dancing improves constantly, the choreography reaching greater heights of beauty and precision, and a wave of powerful creativity sweeps through the set.
Audience Reviews for Tango
½
A film which utterly blew me away the first time I saw it. And each time since then, it still manages to take me away. A visual masterpiece, its dance sequences are exquisite, its music is amazing, and its story a tribute to the ever-waging battle of the visionary versus the financier. A film that I consider to be one of the best that I've ever seen. Another great film by the master director Carlos Saura.
Bobby Stevens
Jan 2011 (with Setareh) - This is a modern musical but it gets so deep into the musical aspects and tango that it nearly loses its quality as a movie. The dancing scenes become boring and the actings are exaggerated to a level that it makes it very hard to get involved with the story and characters. The ending is however nice and appropriate.
Hossein N
½
Great Story, memorable dialogues, beautiful haunting music, awesomely choreographed dances, and none of the Hollywood's hype. I could not ask for more.
Steven Gunawan
Tango Quotes
There are no approved quotes yet for this movie.
Discussion Forum
Discuss Tango on our Movie forum!