Fascination
(1979)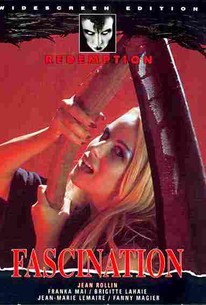 AUDIENCE SCORE
Critic Consensus: No consensus yet.
Movie Info
This erotic horror film from controversial cult director Jean Rollin is among his best. Set in 1916, it tells the story of a thief who seeks refuge in a castle owned by two women, Eva (Brigitte Lahaie) and Elizabeth (Franca Mai). The women are seductive and teasing, but turn out to be part of a vampiric cult of blood-drinking aristocrats. The film's most striking sequence has Eva slashing her way through a group of armed peasants with a large scythe. Filled with Rollin's typically heady mix of sex, violence, and hallucinatory visuals, Fascination may be the most accessible introduction to his unique body of work. ~ Robert Firsching, Rovi
Critic Reviews for Fascination
All Critics (2) | Fresh (2) | Rotten (0) | DVD (1)
"Fascination" is at times bloody and baroque, but it remains intriguing even if there are few surprises in how the story will play out.
Since few watch Rollin for story, I will give a nod to the beauty of the leading ladies, the vast glory of the sets and locations, and the composition of the shots.
Audience Reviews for Fascination
½
A highwayman burns his fellow brigands and holes up in a chateau where he meets two seductive women who are expecting mysterious guests at midnight. This is director Jean Rollin's most conventional horror tale, with all of his atmosphere (and nudity) and little of his usual oddness. That leads some people to conclude it's his best film, though actually, the lack of crazy rough edges merely prevents it from being his worst.
When I think of Jean Rollin, one of the films I think of is Fascination. It stands today as one of my favorite Rollin films. Every time I sit down to watch, I'm awe struck at the the visuals, Its erotic horror cinema at its best. Fascination is about as surreal a film as one could expect from Rollin (but not nearly as challenging as some of his other work). Elisabeth (Franca Mai) and Eva (the incredibly gorgeous Rollin regular Brigitte Lahaie) are two beautiful women held up in a grande chateau awaiting the remainder of the guests for an annual reunion (any Rollin regular will know exactly what's going on, there aren't really any surprises here). In the mean time, a crafty thief (well, he thinks he's crafty, considering the castle is surrounded by water; one way in, one way out) hides out in the castle from his cohorts that he just stolen from. The two lovely young ladies, tease and taunt the thief always allowing him to feel as if he's got the upper hand. It isn't long before we discover what's really going on in the deserted castle, and to not give much away, things start to get bloody for all involved. What can be said about Rollin that hasn't been said already? Rollin is king when it comes to beautiful French women, gorgeous French locales, and beautiful French women. Did I mention the beautiful French women? What Rollin lacks in the story department, he more then makes up for (many times over) in his visuals, and trance like progression of events. Fascination contains some unbelieveable shots of the French countryside, grande castles, and who could ever forget that mind numbing visual of Ms. Lahaie brandishing a scythe while wearing that black robe (and nothing else mind you). Another one of my favorites from the late Jean Rollin. If you like his other films or are new to his work this is one to check out.
David Ladd
Super Reviewer
Fascination Quotes
There are no approved quotes yet for this movie.