The Brotherhood
(2001)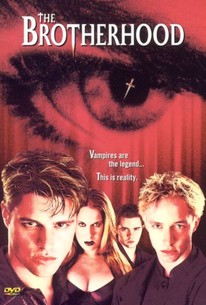 AUDIENCE SCORE
Critic Consensus: No consensus yet.
Movie Info
A cross between Buffy the Vampire Slayer (the television series) and a Calvin Klein underwear ad, David DeCoteau's The Brotherhood tells the story of a group of young, attractive vampires who reside in California. The secret sect of blood suckers must find someone pure from the nearby college campus to sacrifice. The cast includes DeCoteau regulars Michael Lutz, Forrest Cochran, Bradley Stryker, and Donnie Eichar, all of whom would go on to appear in the director's Scream knock-off Final Stab.
Critic Reviews for The Brotherhood
There are no critic reviews yet for The Brotherhood. Keep checking Rotten Tomatoes for updates!
Audience Reviews for The Brotherhood
OMG. Where should I start? This film is horrible, but in a campy and amusing way. The writing and editing are horrendous. (E.g., a character suggests they leave a party to "go get coffee", and in the next scene, asks her date where he could have possibly found coffee at that hour. (!?!)) Terrible acting. The nature of the "brotherhood" isn't really explained although they don't seem to be vampires. Supernatural powers seem to be ad hoc. But it's so stupid, it's also kinda fun!
Christian C
Super Reviewer
½
Cheesetastic low budget schlock with high school level performances from the cast and a particularly annoying leading actress. But if you are a fan of junky psuedo horror films with plenty of eye candy this is passable.
This is known as I've been watching you in the UK. One of the worst films I have seen and 2 of them by the same director! He is making Uwe Boll look good. This director seems to have a fixation of showing guys with their tops off as well. This is so low budget with poor acting, script, story the whole lot. Why have special effects if you can just shake the camera? Save 75 mins of your life and watch Srceam again instead.
The Brotherhood Quotes
There are no approved quotes yet for this movie.