King Of The Ants
(2003)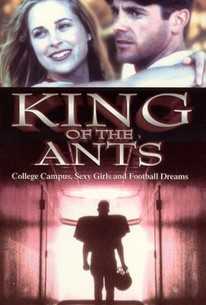 Movie Info
Michael grew up in a college town with daydreams of being a member of the football team that he would watch doing drills -- an accomplishment that would make his military family proud. When the day comes that Michael actually enters college, however, he finds that living up to his father's expectations is not so easy; he rarely makes it off the bench and is hardly the football player he'd once dreamed of being. Then me meets Brenda, a girl that appreciates him for who he is, whether or not he's a star athlete. Now, for the first time, Michael is pondering whose dream it is that he's been chasing.
Critic Reviews for King Of The Ants
Audience Reviews for King Of The Ants
King of the Ants is a disturbing and violent tale of the dark side of humanity and betrayal. It is brutal and dehumanizing, I don't really understand why Stuart Gordon decided to make this film but he didn't make it right for sure. Part torture porn, part revenge thriller, King of the Ants lived up to it's title and managed to shock it's viewers.
Sylvester Kuo
Super Reviewer
From Stuart Gordon we get another gem. The back made it look like some kind of monster flick, but it was just a still from a dream sequence, which was a little disappointing. Still, pretty messed up, and the guys face after being beaten with golf clubs for weeks is really nasty/awesome. Plus, who doesn't want to see the fat guy from Cheers get his head cut off?
Curtis Lilly
Super Reviewer
½
A very grim and disturbing low budget movie that will not be for everyone's taste, it is a Stuart Gordon movie after all. It's a lot better than average B-movie releases. The story, though grim natured, is interesting and compelling. The acting on the whole was good, particularly by the lead actor, Chris McKenna, in his first leading role, who is in almost every single scene, and for the movie to really succeed his performance needed to be strong and he certainly pulled it off. It's violent, dark and disturbing, but if that's your thing it's well worth watching.
King Of The Ants Quotes
There are no approved quotes yet for this movie.