Shark Bait
(2006)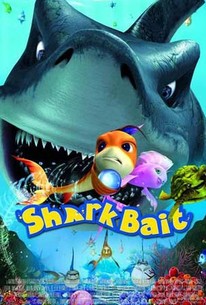 AUDIENCE SCORE
Critic Consensus: No consensus yet.
Movie Info
In the wake "Finding Nemo" and "Shark Tale" comes this enchanting CGI-animated adventure about an orphaned fish (voice of Freddie Prinze Jr.) that goes fin-to-fin with a bullying shark for the affections of a lovely female. Among the other voice talent: Evan Rachel Wood, Rob Scheider, Donal Logue and Andy Dick. Also known as "Shark Bait."
Critic Reviews for Shark Bait
Audience Reviews for Shark Bait
½
It`s like Finding Nemo in reverse whereby the parents get taken away and Pi is left behind. He sees and falls in love with Cordelia, a pink female fish who has attracted the unwanted attentions of a bullying tiger shark Troy and his two cronies, a barracuda and a wolf eel. Pi learns that Troy is a true nightmare for the inhabitants of the reef, and that nobody has enough courage to stop him. He meets a wise sea turtle, Nerrisa, who teaches him some kind of martial arts and other stuff, so Pi could win the heart of Cordelia and beat the bad guys in the process, creating a better and safer new order! The animation was appalling but with its brilliant color schemes the little kids should enjoy this one. And Pi's "psychic" aunt voiced by Fran Drescher was a hoot. Shark Bait's cast also includes R. Lee Ermey; John Rhys-Davies; Donal Logue; Rob Schneider, Andy Dick, Evan Rachel Wood and Freddie Prinze Jr.
½
Well, I must admit that this movie just want to follow the success of Finding Nemo, or perhaps Shark Tale... The animation wasn't bad at all, at least the idea for the story was pretty fun... But what happens after the movie flows is it just a high expectation movie from the makers, but they really really didn't have anything at all... The fish was cute and funny, but their face just looks like too 'human', similar like Shark Tale do... If it's a fish, so their face should be a fish face too, not fish with a face of a human... Then the story, I think the idea didn't bad... About how male fish gave a pearl to female fish to propose her and then the female fish will accept the pearl if she wants to be with that male fish forever... That thing was pretty good I think, even I don't know if it's really true or not... But when the story going, it just a disaster... Some scenes that made to be funny, wasn't really funny at all... Yet there is too many conversation in this movie, which could be so boring for the kids that watching it... Last word, a nice try from the makers, especially after knowing that they can get Freddie Prinze Jr., Rob Schneider and Evan Rachel Wood for a voice cast of this movie, but it just a usual cartoon that a little too heavy for the children...
Sanjaya 丘耀文
Super Reviewer
½
Why is that so many animated movies are so simple. Good little fish learns self defence and beats the bad shark, gets the girl and lives happily ever after -- whoo hoo.
Shark Bait Quotes
There are no approved quotes yet for this movie.