As You Like It
(2006)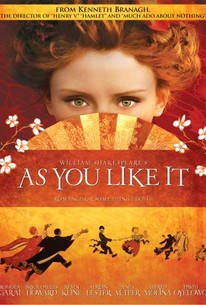 Movie Info
With a setting inspired by 19th Century Japan, director Kenneth Branagh adapts Shakespeare's lightest and most delightful comedy 'As You Like It,' a celebration of the enduring power of love in all its many disguises. Witty, playful and utterly magical, the story is a compelling romantic adventure in which Rosalind and Orlando's famous courtship is played out against a backdrop of political rivalry, banishment and exile in Forest of Arden.
Critic Reviews for As You Like It
Audience Reviews for As You Like It
½
For an overview of the play and some decent performances this is fine but isn't up to the standards of Branagh's 'Hamlet' or 'Much Ado' (I haven't seen 'Henry V' or 'Love's Labours'). His concept of setting it in a Japanese culture doesn't really work , especially since there are so few actual japanese actors. Also the dramatic beginning, although interesting as a scene setter, is far too drataic and doesn't work in what should essentially be a comedy. The actors all do very well with their parts and make sense of the script (there is little actual verse in the play so it isn't a difficult one to follow) but you can't help wishing that such a good cast were given a more substantial Shakespeare play to perform. Interestingly the epilogue is cleverly done and is better than most of the rest of the film. If only Branagh had pursued this style rather than the other.
David Sayers
Super Reviewer
The awful confusion of Shakespeare's novel itself is a confusion, imagine a movie about it...
Yinalí Ríos
Super Reviewer
½
Here's one that snuck completely under my radar, probably because it was apparently made-for-HBO (which I don't have) and not released theatrically. I like Branagh, and I like Kline, but Bryce Dallas Howard in the lead? I'll pass... right? Well, I gave it a shot. Kenneth Branagh has successfully returned to the lighter side of Shakespeare for the first time since 1993's Much Ado About Nothing (Love's Labour's Lost is better left overlooked). He again shifts the setting, this time to 19th century Japan. An odd choice, but it kind of works.. once you get used to it. The acting across the board is top-notch, and unlike some other Shakespeare adaptations, they all sound completely natural reciting the dialogue. I do have problem with them expecting us to believe the other characters actually thinks she is a man (when all she's done is change her clothes), but I guess that's just one of those things you have to overlook and suspend disbelief. As for Bryce, she could not have been more perfect in the role. She is undeniably charming, handles the part masterfully, and is by far the best thing about the film. Maybe it's time to overlook her history of bad Shyamalan films and watch where her promising talent takes her.
Martin Bishop
Super Reviewer
As You Like It Quotes
There are no approved quotes yet for this movie.