Out of the Blue (Aramoana)
(2007)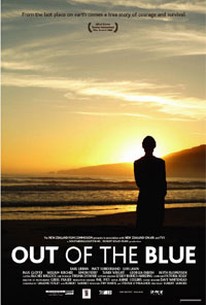 Out of the Blue (Aramoana) Photos
Movie Info
Out of the Blue, New Zealand writer-director Robert Sarkies' long-awaited follow-up to his 1999 feature debut, Scarfies, recreates the events that led up to and surrounded David Gray's November 13, 1990 mass murder of 13 locals in the town of Aramoana, New Zealand. Sarkies, however, approaches the material not as exploitation nor as an action picture, but -- like Terrence Malick in his 1973 true crime picture Badlands -- as an understated and detached drama. Sarkies uses a contemplative and reflective approach and a small-town pace and resists gratuitousness, intersecting several tales of casualties and survivors and downplaying the brutal violence. One story involves the contentious relationship between fiftysomething Jim (Timothy Bartlett) and his mother (Lois Lawn); another has a mom, Julia Anne (Tandi Wright) informing her daughter Rewa (Jacinta Wawatai) and her beau's children that they plan to share a house; and in a third, eccentric gun nut David Gray (Matthew Sunderland) cracks and guns down Julia's boyfriend, Gerry (Simon Ferry), in cold blood. These only represent the first three threads in a complex narrative tapestry; the story ultimately gives way to tense hours as the locals, realizing that a predator is on the loose and will kill anyone he can find, barricade their homes and cower in fear. Cinematographer Greig Fraser gives the picture a chilly, wintry aesthetic, rich with whites and blues. The film co-stars Karl Urban; Graeme Tetley co-authored the script with Sarkies.
People Who Like this movie also like
Critic Reviews for Out of the Blue (Aramoana)
Audience Reviews for Out of the Blue (Aramoana)
½
This was a beautiful and disturbing film about a madman in New Zealand. Based on a true story.
½
I often sit back to watch a "BIG" film only to end up thinking "What's the point?". Take X-Men Origins: Wolverine for example, a prequel about an indestructible man. We know he lives, we know he can't really be hurt. Then I watch a film like Out of the Blue. All I knew was the title and that Karl Urban would be in it. The film builds up at a nice pace, showing people doing normal daily things. There's one "eccentric" that adds a nervous tone, and rightly so. To say more would be to spoil it. It is based on a true story, but one I hadn't heard of. The film was full of the kind of nail-biting tension and shocking moments that are absent from those big blockbusters. It's shot perfectly and punctuates the one hour set-piece with quick quiet moments. No emotional blackmail to speak of either, and the excitement comes from nerves and not an overbearing, blood pumping score.
Luke Baldock
Super Reviewer
½
One of the only movies to totally upset me.Based on the true story set in New Zealand about a lone gunman thats go's berserk killing 13 men,women and children in a rurul town in 1990.To make it unsettling is that it plays like a documantry and that the performances are so real that it makes you feel that your there.This is certanly no hollywood movie.There's no heros and no one man army to save the day just a real story with real people and a place in history that your won't forget easy after watching this movie.One stand out performance is from Karl Urban who prove more of a actor here than any of the hollywood movies he as been in lately.
Brian De Guelle
Super Reviewer
Out of the Blue (Aramoana) Quotes
There are no approved quotes yet for this movie.