Ice Age: Dawn of the Dinosaurs (Ice Age 3)
(2009)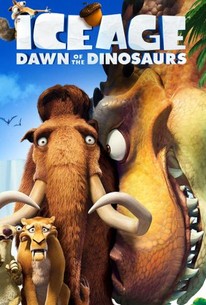 TOMATOMETER
AUDIENCE SCORE
Critic Consensus: Ice Age: Dawn of the Dinosaurs boasts some excellent animation -- in particular, the dinosaurs are wonderfully realized -- but its story is tired and monotonous.
Ice Age: Dawn of the Dinosaurs (Ice Age 3) Photos
Movie Info
The fun continues as Diego, Manny, and Sid all return for another round of prehistoric fun in this installment of the popular computer-animated children's series.
People Who Like this movie also like
News & Interviews for Ice Age: Dawn of the Dinosaurs (Ice Age 3)
Critic Reviews for Ice Age: Dawn of the Dinosaurs (Ice Age 3)
Audience Reviews for Ice Age: Dawn of the Dinosaurs (Ice Age 3)
This is hands down one of the worst sequels made in my opinion. The animation looks nice, but the characters have lost all appeal since the 2nd film, and the jokes range from painful to almost tolerable. This is a major skip for me.
Michael Edwards
Super Reviewer
Jackpot everybody! the Ice Age franchise started off on a high note of originality and uniqueness but then dipped for the sequel. In my humble opinion this third film is easily the best looking, most exciting and imaginative of the trio by a mile. Plot isn't exactly original again, this is pretty much a new animated adaptation of classic tales/films 'Journey to the Centre of the Earth' and 'The Land Before Time'. All the regular characters are present and correct again including the last addition to the herd...'Ellie'. The idea this time is simply 'Sid' stumbling on some dinosaur eggs, stealing them and trying to raise them as his own (not knowing what they are), getting caught and slothknapped by the mummy T-Rex, taken away underground where the T-Rex lives and the gang following to save him. This is where we discover a lost world of dinosaurs that is underground beneath the current ice age above, totally stupid yes but its fun. Its not suppose to be taken seriously of course and being a kids animated film the creators can take enormous liberties. I must point out this film is also much better than the previous film in the fact its back to being enjoyable for all, not just the kids. The adults will enjoy the homages to the old adventure flicks which always seem to work well, classic B-movie stuff. The visuals in this film totally surpass everything before, I really loved the bright colourful world they explore down below. Its really sharp and vivid, bursting with life and ingenuity with many old vintage formulaic creations you would expect for a world like this. Giant carnivorous plants, huge bugs, creeping vines, deep dark void like chasm's, dino skeletons dotted around, lava flows and lots of dino variations which are fun to spot. The very first action sequence involves 'Diego' chasing down a gazelle type mammal. This short frenzy of a sequence is glorious to watch it really is. The animation clearly shows how far 'Blue Sky' have come creating a virtually seamless wildcat and gazelle in full flow with fur/hair, muscle and displaced flying debris etc...all moving as it should. Its almost too good really. Another big hit with me was the introduction of new character 'Buck' who is a one eyed weasel. This guy is designed to be an animated 'Jack Sparrow' if you ask me hehe he has all the traits including being somewhat crazy, unpredictable and behaving a little tipsy at times. This character is a great addition to the film and really boosts the laugh levels plus he looks natty too. Voiced perfectly by Simon Pegg which was a surprise to hear actually, would never have guessed, also unsure if he was trying to impersonate Depp's creation, sounded like it. A complete rip off of another classic character he may be but I guess you could look at it as a homage perhaps. It is ironic though that in this film the one element that has always been a winner was the subplot for 'Scrat', but not here. In previous films his antics have been the shinning point against the slightly dull main attraction. In this film its the opposite for me, 'Scrat' must contend with a female of his species and compete for the acorn in typical 'Road Runner' vs 'Wile E. Coyote' fashion. Some may still like these little segments but this time round for me it wasn't as good as before, the female character seems to get in the way and you just yearn for 'Scrat' to kick her ass lol! I suppose it was amusing to see him end up married to her and being driven into depression slowly, only to remember what made him tick in the first place. Its such a shame that again little 'Scrat' doesn't win even though I REALLY wanted him to this time. Annoying flying female squirrel grrr leave our 'Scrat' alone!. This film wins on all counts really with one amazingly good looking scene after another. I loved the look of the film, how bold and colourful it is with so much creativity, curiosity and how every frame has something happening. The finale is jam packed with excitement which all accumulates with a mega dino battle, must point out that all dinos seen do seem to be based around real species which is cool. More of an outright boys own adventure this time, still has the humour but leans more towards big event visuals over dialog and in your face emotions. Of course there is still emotion with the birth of 'Peaches' towards the end but its not as heart felt as what we saw in places with the first two films. This time the main attraction is best whilst 'Scrat' falters somewhat in my opinion. Brilliant comeback after the dismal second adventure and manages to earn a spot within the best CGI animations ever yeh!. Shame 'Buck' didn't stick with the herd as you know there will be another film with a grown up 'Peaches', but that might not be a good thing.
Phil Hubbs
Super Reviewer
Rarely does a film franchise peak during the third installment, but somehow "Ice Age" has. This third entry is by far the most entertaining of the film series(well, haven't seen 4 yet). The gang is back, and this time Ellie is pregnant. The herd starts to come unglued, as Manny is concentrating on Ellie's baby. Diego doesn't like the ideal of a domesticated life. As for Sid, well he stumbles underground and finds three eggs, and decides to have his own family. Only thing is, the eggs are dinosaur eggs, and the mother comes looking for them. She then takes her babies and Sid back underground to a secret dinosaur world below the surface. The group then goes on an adventure to save Sid, meeting the best character besides Scrat, Buck(Simon Pegg). Buck is a swashbuckling thrill seekers who leads the group while underground. Pegg brings a humor to the series that had been sorely lacking. Buck is "Ice Age's" equivalent to Puss in Boots. The comedy is definitely directed in a more broad scope, especially for adults. Lots of "about to have a baby" type of humor that parents will enjoy. The animation was by far the best of the series, and it's good to see how far it's come since the first movie. "Ice Age" as a franchise still ranks below most other animated franchises for me, but it gets better and better with each movie. Hopefully that trend continues. Side Note: I took my nephew Will to see this in the theater, it was his first movie. So funny seeing him, 3 years old I believe, with 3D glasses and a big tub of popcorn on his lap. Things like that make going to the movies so special.
Everett Johnson
Super Reviewer
Ice Age: Dawn of the Dinosaurs (Ice Age 3) Quotes
| | |
| --- | --- |
| Manny: | [To Diego] That's you in two weeks. |
| Manny: | [to Diego] That's you in two weeks. |
| Manny: | [to Diego] That'll be YOU in three weeks. |
| | |
| --- | --- |
| Buck: | Let's get you home |
| Buck: | Let's get you home. |
| | |
| --- | --- |
| Dinosaur Babies: | Mommy! |
| Dinosaur Babies: | I'm their mommy. |
| | |
| --- | --- |
| Manny: | After we save Sid, I'm gonna kill him. |