The Hills Run Red
(2009)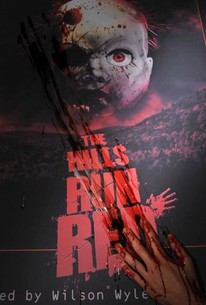 Movie Info
Dark Castle Home Entertainment and Warner Premiere collaborate for this shocker about a film fanatic whose quest to procure a print of a notorious slasher movie leads him and two friends on a trek into the backwoods where the film was originally shot.
Critic Reviews for The Hills Run Red
Audience Reviews for The Hills Run Red
A sloppy, but fun horror film. It's pretty cheesy and the acting is not so great, but Sophie Monk keeps the film smoking hot and the violence is pumped up to a juicy nice level. Good story and great cinematography help us forget about the terrible acting and poor script (dialogue) - to an extent. Graphic violence, T&A, sadism and torture make this an above average slasher flick about horrors of a mysterious snuff film. "Rated R for strong bloody horror violence and torture, grisly images, sexual content, nudity, language and some drug use." ...Good times!
jd cryptic
Super Reviewer
½
An above average straight to DVD slasher. Surprised could have done ok at the cinema. A creepy looking killer, good location, quite a few familiar faces in the cast including William Sadler! Quite gory in places, the story is original if very far fetched. A mix of 8mm, Scream and Wrong turn. Better than most recent slasher films I've seen.
½
The Hills Run Red is one of the most brutal, violent and disturbing horror films of recent memory. The story is original and terrifying. The acting is decent. The violent is bloody as hell, and will satisfy any gore hounds. This film is the work of a director who knows what makes horror great. This film has every element from an awesome horror flick. Terrific pacing and chills arises as the killer stalks his victims as they search for a lost slasher film called The Hills Run Red. This film takes no prisoners its executed with confidence and doesn't let the viewer catch a breath. The film attacks you on all fronts, and when you watch it, you experience genuine terror as this is one of the most original horror films since The Devil's Rejects. A tense horrifying ride, The Hills Run Red is an awesome achievement in the horror genre.