13 Tzameti
(2005)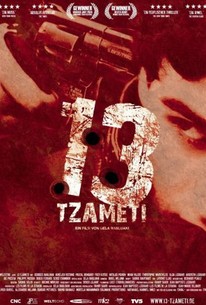 Movie Info
An aimless 20-year-old with a penchant for following the rules receives a mysterious set of instructions that lead him down a path from which he may never return in director Géla Babluani's tense tale of death and chance. Sébastien has come into possession of a train ticket and a mysterious set of instructions. Though he is unsure of exactly what fate awaits him when he arrives at his destination, one thing is certain: these items were most certainly not meant for him. Bored by his uneventful existence and hungering for something new, Sébastien boards the outbound train and takes his first bold steps into an unknown future. But the world can be a cruel and unforgiving place filled with unfeeling men to whom human life means little more than a lost wager, and if Sébastien is to make it through his harrowing journey alive he must keep his wits about him and pray that luck is on his side.
News & Interviews for 13 Tzameti
Critic Reviews for 13 Tzameti
Audience Reviews for 13 Tzameti
A day labourer whose employer dies of an overdose takes his place at a clandestine meeting hoping for work, but instead finds himself a forced participant for a deadly underground gambling ring. 13 is the low budget debut from Franco-Georgian auteur Gela Babluani and has a kind of brutal intensity that has inspired comparisons with Fight Club because of its premise involving ordinary men engaged in a secret, violent organisation. This film, although displaying a kind of brutal and gut-wrenching intensity during the incredibly tense "game" sequences, it fails to explore the kind of knowing wit and social satire of David Fincher's film. The concept of the impoverished and disenfranchised being forced to participate in a game which could result in their deaths while the rich gamble only money they can afford to lose could have made a really nice analogy for the current financial climate, but the script instead settles for taking the safe route of a generic thriller making for a rather unsatisfying ending. A shame because there's a lot of potential in the idea as political allegory but it's worth seeing for the disturbing duel sequences alone.
½
Although not graphically violent in terms of blood and gore, this film reminded me of a more serious version of 'Hostel' and perhaps a little of Johnny Depps 'The Brave'. The black and white filming suited the darkness of the piece. It does take a little warming up and reach the main storyline, but once the main body of the story emerges, it transports the relentless fear and adrenalin that the lead character experiences in a realistic fashion. The lack of dialogue at times heightens the suspense and fear. An intriguing watch, unlike any kind of gambling film you've ever seen.
Lady D'arbanville
Super Reviewer
A wonderful idea is not capitalised on, resulting in an interesting but often lazy film. All the talent and necessary ingredients are here for a classic but it's the film's lack of depth that harms it. The main character is never explored. Sure he wants money, but his actions in pursuing the unknown are unexplained. Later he just seems to take part, before trying to escape, which leads nowhere. The other characters are left shady and for good reason, it throws us into the underground world. Unfortunately it just doesn't make the film anymore interesting. Too short with absolutely no tension does not bode well for a thriller. Perhaps a Hollywood remake could, dare I say it, improve what was a different and enjoyable film.
Luke Baldock
Super Reviewer