High Plains Invaders (Alien Attack)(Alien Western)
(2009)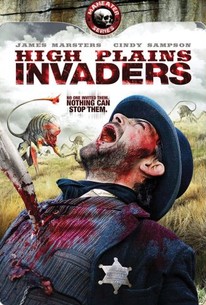 AUDIENCE SCORE
Critic Consensus: No consensus yet.
Movie Info
When aliens invade the Wild West, a condemned outlaw fights back with everything he's got. The noose tightening around his neck, Sam Phoenix (James Marsters) prepares to meet his maker. Sam gets an unanticipated reprieve, however, when an evil insectoid strolls right into town square and sends everyone running. When the townspeople become the prey in an interstellar hunt, Sam vows to turn the tables on the extraterrestrial predators. ~ Jason Buchanan, Rovi
Rating:
NR
Genre:
,
Directed By:
Written By:
In Theaters:
On DVD:
Runtime:
Studio:
Syfy
Audience Reviews for High Plains Invaders (Alien Attack)(Alien Western)
½
About the nicest thing you can say about "High Plains Invaders" is that it's a B-movie that dares to think beyond its modest budget. It comes up with a fairly original plot, setting and creature design, and because of all that I almost hate to knock it. Screenwriter Richard Beattie actually put some thought into the story, even being so bold as to invoke the name Jules Verne at one point. It's a nice surprise, but unfortunately, the rest of this is so clunky that the one good element fails to shine through. It's fresh seeing the combination of a western paired with science fiction, but the western aspects such as the dialogue and weaponry is completely inauthentic and negates nearly evereything else in the film. The acting is wooden and the direction is still, with a conclusion that feels far to abrupt. The creatures of the title are interesting looking, and I am forced to admit the CGI used to bring them to life isn't the worst I've ever seen, but not enough is done with their backstory. You never really feel like you know what they're about or why they are here. And the title is far to similar to a certain Clint Eastwood picture, so much so in fact that "High Plains Invaders" feels wrong to say or at the very least, difficult. There's a lot more going on here than in your typical made-for-video dud like it, but you won't find this very entertaining either. With a little more effort, this may have actually been worth watching.
Timothy Sanders
½
131122: This was a surprisingly good movie...except for one thing. Why the heck do the makers of movies such as this have to use incorrect firearms? It's such a simple matter and I imagine not much difference in cost. If it wasn't for the modern revolvers, I would've given this film four starts. Having watched it on the small screen (Blackberry Z10), it's potentially an incorrect evaluation but the special effects seemed pretty good. The "bugs" did not appear too digitally inserted. Some good characters; I especially liked Rose Hilridge. Fun find.
John Redshaw
½
The eighteenth Maneater movie is a silly one.High Plains Invaders' monsters are Aliens,and there here to do what just about any Aliens do.Attack us and try to take over the Earth.Essentially,RHI and Sy-Fy thought an Alien Invasion movie would make for a good Maneater movie.And it does,with not many flaws.Well,as far as the plot goes,I can't argue much about nice simplicity.Though I will scold the movie because the way the movie is treated more like a Zombie movie rather than an Alien movie.People barricade themselves in a Church.That reminds me of something out of a Zombie movie,not an Alien Invasion movie! That makes no sense when these things look like they can simply bash open a window and pierce through wood.That's the worst offense the movie commits thankfully and I really don't see the need to deduct a point from it either.It's nit-picking rather than some serious.None the less,I'll let the plot pass. The acting is good.People act like the Aliens are there and they're desperate when in the Church,trying to fend off what look like War of the Worlds walkers that where shrunk,given longer legs,a tail that could impale someone,and rounded heads.Okay,they're fending off crazy looking Aliens,but I'll call them mini-walkers.Well,as time goes on,the acting slowly gets better than it is and I give credit,it usually goes the other way.Took them 19 movies to do that,but it was worth it.Of course,they can't break the habit that,at times,the acting becomes over acting and ruins the mood slightly.Well,at least we aren't doing what the older movies where doing and over acting enough to use it as a step latter to clean Hubble! Joking (and not joking,ironic,ain't it?) aside,the acting is good,the over acting moments are few,and the actors treat the invasion as if it where real,but not becoming overly dramatic.The over acting isn't that funny either,it just comes off as kinda lame since it breaks the mood,but the acting passes none the less. The directing is,thankfully,not as shaky as the others and comes off as nicely done.It's like Sand Serpents,they got a tri-pod since they got a budget that didn't go below fifty bucks.Most likely not joking aside,I can see the mini-walkers,I can see the damn action,and I sadly still feel when it's shaky,I wanna kick the camera man in the groin and tell him to stop reaching for his soda and just fucking do his job and not give the audience a feeling of Vertigo.Honestly,when the directing is shaky,I still feel like I'm on a roller coaster.Ever needed a way to tell your friend "Less is more"? Well,High Plains Invaders' shaky directing is a good example.It's few and far between,yet I still wanna pause the movie and rest my head a bit before resuming.Up and down,left to right,loop-de-loop! I hope that Roadkill doesn't suffer form the same problem this movie did.Over all,the directing is nowhere near as shaky as the others,but when it is,which is rare,it is seriously friggin' shaky.The camera got pissed up before being used,that's all I can think of (and no,I don't mean the camera MAN,I think the camera itself was drunk off it's ass). The characters are nice.They're developed,they're likable,they still aren't good enough to be sympathized for,and the Aliens are the heroes.Obviously,the characters are as good as any damn Maneater movie.This takes place in the country,so there's plenty of moments where I wanted to bust out laughing at the movie's stereotypical country folk.I can't comment on that though,since they die like they're city folk.Whoops,looks like they got the actors for Black Swarm mixed up with the actors for this movie.I still lack sympathy for the characters,what a shock.The reason for that is,well,it's Sy-Fy,I forgot there names pretty quickly and didn't care to go back and write down that this guy is an extra,that guy is an extra,and that mini-walker is named "Kill two extras-walker".Honestly,there forgettable,and I didn't care if they died.If a mini-Walker Texas Ranger-(I Finally got the obvious joke out of the way,and it sounded stupid)-died,I felt a lot of Sympathy,just like if they killed any Maneater monster or did anything harmful to one.So as you can obviously see,even in an Alien Invasion Maneater movie,I still lack sympathy for the characters,and I root for the monsters.Over all,good characters,there made the best way possible! The CGI is okay.It's not as good as the other Maneater movies,which I assume is why the directing wasn't as shaky as the other movies.Eye for an Eye at the audience.I guess that's what you get for complaining about the lighting.You can't see,you can see in the next,but then the CGI isn't that great.Well,you'll see how they fixed up in Hellhounds.Ignoring the next Maneater movie,the CGI I couldn't really laugh at either.It didn't stick out like a sore thumb enough,yet I can't hate it because it doesn't suck.I can't deduct a point from it since,once again,it does not suck! If I had to find anything to nit pick about,it's the fact that there body movement feels slightly off.Then again,when you look like a mini-walker,you're going to walk a little weirdly.Over all,I'll let the CGI get lee-way and pass,but even then I still can't decide weather it's good or bad.Don't worry,they fixed that in Hellhounds too! The dialogue fits nicely with the acting.Everyone says there lines nicely,everyone sounds like the events are happening,yet we still can try to get a girl....kinda,we are interrupted with breaking news.Wild Aliens appeared,quick,shoot them,stab them,hit them,use an extra so we can have a bit of real violence,scream for no reason.Yeah,one thing I like is the fact a love story in this movie is interrupted.So I don't have to worry about pointless padding.Yeah,another thing this movie has going for it is the lack of real padding.Unless you wanna count violence as padding,but I consider it an excuse to see an extra bite the dust.Well,ignoring all that,the dialogue really just succeeds in being smooth,there isn't a whole lot going for it other than it nicely fitting in with the acting,and the lack of padding.That and any form of hitting on being interrupted.So it too passes. Over all,High Plains Invaders was pure fun.Everything was nicely done (even if the directing,when it was shaky,was really shaky) and fits into place.There isn't much that the movie lacked,everything fit into place.Well,expect for the fact the CGI was so okay that it's barely worth ranting about,or giving a little praise.The movie lacks padding and lacks anything bad.It could be better,granted,but if you wanted a good Alien Invasion movie,just watch War of the Worlds,but even then,this movie isn't trying to be that,it's trying to be it's own movie.If this movie was trying to be War of the Worlds,I would comment on that,but since this isn't a city,lacks the tone of the book or movie,and virtually everything that made War of the Worlds what it is,I can't comment on that.Other than that,I score High Plains Invaders a 7 out of 10.I recommend it,even if just to see people get there asses handed to by mini-walkers.The next Maneater movie,Hellhounds,I quite literally have a bone to pick with.
Chris Skoufis
High Plains Invaders (Alien Attack)(Alien Western) Quotes
There are no approved quotes yet for this movie.