A Dog's Purpose
(2017)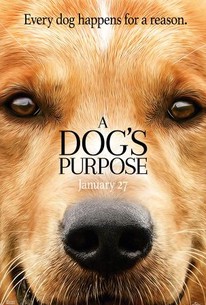 TOMATOMETER
AUDIENCE SCORE
Critic Consensus: A Dog's Purpose offers an awkward blend of sugary sentiment and canine suffering that tugs at animal-loving audiences' heartstrings with shameless abandon.
Movie Info
"A Dog's Purpose" shares the soulful and surprising story of one devoted dog who finds the meaning of his own existence through the lives of the humans he teaches to laugh and love.
News & Interviews for A Dog's Purpose
Critic Reviews for A Dog's Purpose
Audience Reviews for A Dog's Purpose
Great movie, but I am never watching it again. The dog dies several times and the scene with the cop devastated me. Not just a few tears, literally bawled in public. Anyone whose ever loved a dog is likely to cry! Very well made and good acting. I didn't realise this director did Hatchi as well. That figures. I cried in that one too! Not like this though. Surely a dog shouldn't die more than once per movie!!!
Nicki Marie
Super Reviewer
½
In the opening moments of the latest sun-drenched melodrama from director Lasse Hallström (Chocolat, Hachi: A Dog's Tale) a dog is born and just quickly a dog is euthanized. It's a strange way to open a PG-rated family film about man's best friend, but was apparently the best way to set the stage for a film whose premise is that of dog reincarnation as narrated by Olaf from Frozen. Sound strange? It is, a little bit, but not nearly as bad as you might think though not nearly as effective as it should be either. This is taking into considering the fact the writers/producers and Hallström don't shy away from exploiting what is arguably the easiest way to elicit tears from your audience-a dog dying. They do this at least four times. And yet, through each of these segments, each of these lives that we see different breeds and genders of dogs lead (all voiced by Josh Gad) there is never that moment that just breaks you in the way you expect a movie like this to do. It seems there was no hesitation in doing what it takes to get the audience to that point, but the execution never matches the intention thus making A Dog's Purpose more of a sleeper than the quickly euthanized pup we met in the first scene. read the whole review at www.reviewsfromabed.com
Philip Price
Super Reviewer
½
Children will have no problem with A Dog's Purpose, but adults who have better things to do will just look at the screen with a bored face wondering when is this going to end. Adults in general should look for a film that's worth seeing. Great movie to place children while watching your average R-rated movie.
EpicLadySponge the Adventurer
Super Reviewer
A Dog's Purpose Quotes
There are no approved quotes yet for this movie.