A Gentleman's Game
(2002)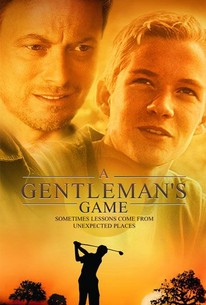 AUDIENCE SCORE
Critic Consensus: No consensus yet.
Movie Info
A boy learns more than he expects when he tries to improve his golf game in this drama. Timmy Price (Mason Gamble) is a 12-year-old boy who has begun to display a precocious talent for golf. Hoping to hone his son's interest in the game, Timmy's father, Mr. Price (Dylan Baker), arranges for his son to have a summer job as a caddy at a nearby country club. Timmy gets a crash course in the nature of class when he becomes aware of the sharp divide between the wealthy people who patronize the club and the working-class men and women who are there to quietly fulfill their desires. Charlie Logan (Philip Baker Hall) is one of the leading members of the club who is very much impressed when he sees Timmy practicing, and suggests to Mr. Price that Timmy would do well to study with an accomplished player. Mr. Price arranges for Timmy to train with Foster Pearse (Gary Sinise), a local golfer who once displayed tremendous promise, but dropped out of the professional circuit after winning his first tournament. As Timmy gets to know Foster, he learns a lot about golf, but even more about life, and discovers there's a secret behind Foster's decision to leave to pro tour. A Gentleman's Game was the first directorial credit for producer J. Mills Goodloe.
Critic Reviews for A Gentleman's Game
Audience Reviews for A Gentleman's Game
Too many stories trying to be told. The main plot gets quickly lost, and this film goes in too many different directions. On the other hand, some things are introduced, but do not develop at all. Some good actors, but they are not used well. Shame...
Cynthia S.
Super Reviewer
this was a decent flick. some of themes were unexpected for this sort of film, but the portrayal of the golf life from the inside was great and gary sinese was good as always.
A Gentleman's Game Quotes
There are no approved quotes yet for this movie.