À nos amours (To Our Loves) (Suzanne)
(1983)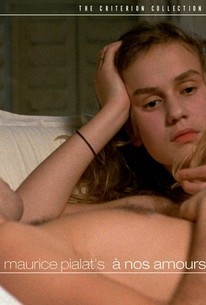 Movie Info
Sandrine Bonnaire plays Suzanne, a fifteen-year-old Parisian who embarks on a sexual rampage in an effort to separate herself from her overbearing, beloved father, ineffectual mother, and brutish brother.
Critic Reviews for À nos amours (To Our Loves) (Suzanne)
Audience Reviews for À nos amours (To Our Loves) (Suzanne)
½
Reminds me of being sixteen...
Stefanie C
Super Reviewer
my first pialat film is a family drama starring a luminous young sandrine bonnaire as a rebellious teenager using sex with random boys to deal with her complicated issues. even more troubling is the sudden turn to violence within her family, especially her unstable mother and super creepy brother. all seems shockingly real with wonderful performances by the actors, not least pialat himself, who plays the soon estranged father. i'll definitely check more of his work in the future
Stella Dallas
Super Reviewer
Excellent, though a little hard to follow - I literally could not keep up with this girl and all her "boyfriends", and by the end half hour I was totally confused as to who she was meant to be with, and what was going on. I was drawn to this movie as I like 80's films in general, and though it's not a typical 80's film, it still has that feel to it, while also being kind of mysterious and beautifully filmed. Sandrine Bonnaire is perfect as Suzanne and I found her family intriguing as much as disturbing. This is one messed up family, and Suzanne seems unnaturally close to her father, whilst her brother is unnaturally close to her. Her mother is just half insane. No wonder she has a few issues! There's not an awful lot happening in plot, but I never felt that it dragged or got dull.
Nicki Marie
Super Reviewer
À nos amours (To Our Loves) (Suzanne) Quotes
There are no approved quotes yet for this movie.