Ace Ventura Jr.: Pet Detective
(2009)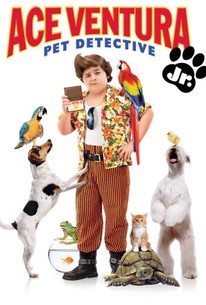 AUDIENCE SCORE
Critic Consensus: No consensus yet.
Ace Ventura Jr.: Pet Detective Photos
Movie Info
Morgan Creek revives the series that launched Jim Carrey to superstardom with this comedy concerning the offspring of everyone's favorite wisecracking wildlife sleuth. His mother wrongly arrested for kidnapping a baby panda, Ace Ventura's seventh-grade son determines to follow in his father's footsteps by catching the real culprit. Sibling scribes Jason and Justin Heimberg collaborate with Jeff Sank and David Mickey Evans (The Sandlot) on a screenplay directed by Evans .
Critic Reviews for Ace Ventura Jr.: Pet Detective
Audience Reviews for Ace Ventura Jr.: Pet Detective
This KIDS MOVIE (also known as Ace Ventura Jr. and Ace Ventura 3) is actually a telefilm designed for a kids network and is not suitable for adults! Please, remember this when you watch it! I could not stand the bad screenplay, bad acting, and the director who made the third installment in the Ace Ventura film series... but on the other hand, 23 of my 9 years old students simply loved it! They thought that the story of Ace Ventura, Jr. , who must follow in his father's (Ace Ventura's) footsteps to save his mother from going to jail, was hilarious! Won't waste time on this one... if you're a kid go and watch it!
Somewhere in Hollywood lives an evil genius and his grand plan is to make sequels to every Jim Carrey movie...WITHOUT Jim Carrey. If that wasn't bad enough this film replaces Jim with some fat, irritating child AND suggests Ace died. "Respectful" is not a word in this film's vocabulary. It also has some old guy, playing Ace's dad, whom repeats all of Carrey's signature lines in a fashion akin to your own grandfather, embarrassing you at your birthday party. This is really horrible, verging on disgusting. I'm not the biggest Ace Ventura fan, but this is just ghastly. I hope all involved have a suicide pact.
Luke Baldock
Super Reviewer
Complete crap. It's like the people that did the first and second forgot what the movie was like. Not to mention this new idea of making movies straight to DVD being prequels or sequels is a really trashy idea. It's like they figure "How can I exploit an already established name and do nothing to make it worth while and have no originality?" Jim's over the top performance was amusing at best but lets be honest, the only reason people watched them was because he was in them. There were no original pieces to this movie period except perhaps the stylist for the hair, and even then I'm not sold. Having some old guy trying to play the part of Ace's father was incredibly lame and became incredibly painful as he tried to spout off the catch phrases. The kid did his own character and wasn't like a really cheap knock off like I had figured he would be. This isn't suitable for anyone to watch. It's unimaginative, unoriginal and unfunny.
Aurelius Duchtius
Super Reviewer
Ace Ventura Jr.: Pet Detective Quotes
There are no approved quotes yet for this movie.