Aftershock
(2013)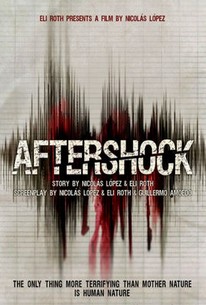 TOMATOMETER
AUDIENCE SCORE
Critic Consensus: Aftershock hints at an inventive twist on horror tropes, but ultimately settles for another round of mind-numbing depravity that may alternately bore and revolt all but the most ardent gore enthusiasts.
Movie Info
What happens to a group of travelers who are in an underground nightclub in Chile when a massive earthquake hits? Hint: Nothing good!
People Who Like this movie also like
News & Interviews for Aftershock
Critic Reviews for Aftershock
Audience Reviews for Aftershock
A nihilistic and cheap-looking exploitation crap that has Roth's repellent fingerprints all over it: mediocre dialogue, a bunch of hateful characters we want to see dead and a huge amount of gratuitous violence and gore for the sake of mindless entertainment. In short, a waste of time.
Carlos Magalhães
Super Reviewer
Aftershock is garbage. It not only takes a while to get going, but once the earthquake hits, debauchery and mayhem of the most ridiculous kind ensues. While there is certainly the element that humans devolve into savages in response to a crisis, everything here is executed in the most heavy-handed, simple-minded, and uninteresting way possible.
Edward Boxler
Super Reviewer
Eli Roth's "Aftershock" should have been a frightening cinematic experience since I do live in earthquake country. But after forty minutes of needless setup, scene after scene of sequences which mimic those outrageously low budget SyFy Channel movies shown at two in the morning, and the fact that my suspicions of this films watchability were already high considering it was only produced (not directed) by Roth, it soon became clear that "Aftershock" was built on a foundation which literally fell apart at the seams. Synopsis: A group of "young people" who seek an adventure (lead by non-actor Eli Roth himself) attempt to find it in a country outside of the United States. And then bad stuff happens. Does this plot sound like "Hostel" yet? Well, it is sort of "Hostel", in Chile, if the sadistic killers had been replaced by a natural disaster. The problem with this film comes down to the simple fact that the duration of an earthquake is only a few seconds long. So, after said phenomenon occurs, the movie doesn't seem to know what to do with itself, as if Roth and friends hadn't come prepared with any other plot development which could sustain a feature length film. So, aside from a few smirk inducing social network jokes, an extremely short back and forth between Roth and one Selena Gomez and some minor suspenseful situations in the final 30 minutes, "Aftershock" is a generic and somewhat boring horror endeavor. Final Thought: The ending is actually the best part of this movie, and I'm not even being sarcastic. The final twist used by writer/director Nicolas Lopez is pretty clever. But what one has to wade through to get to this finale is not at all worth the time. Besides, at the end of the day, "Aftershock" is a film where the faster you realize the kind of low grade production it is, the faster you may want to turn it off (or walk out). Written by Markus Robinson, Edited by Nicole I. Ashland Follow me on Twitter @moviesmarkus
Markus Robinson
Super Reviewer
Aftershock Quotes
There are no approved quotes yet for this movie.