Agneepath
(2012)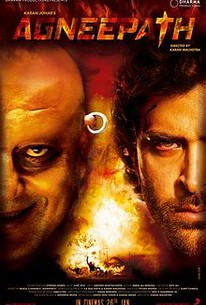 Movie Info
In a small Indian village Mandwa, Vijay Dinanath Chauhan (Hrithik Roshan) is taught by his principled father about the path of fire - Agneepath. His life is completely shattered when the evil drug dealer Kancha (Sanjay Dutt) hangs his father to death. Vijay leaves for Bombay with his pregnant mother and has only one mission in life- to come back to Mandwa and bring back the glory of his father's name. In Bombay, 12-yr-old Vijay is taken under the wings of the city gang lord Rauf Lala (Rishi Kapoor). From then on it is a journey of revenge where he makes and breaks many relationships only to get closer to his aim. Vijay finds support only in his best friend Kaali (Kaali), who stands by him at every moment in his life. Fifteen years later his hatred for Kancha takes him back to Mandwa where life comes full circle.
Critic Reviews for Agneepath
Audience Reviews for Agneepath
1990's blockbuster Agneepath (starring Amitabh Bachchan, Mithun, Danny, Neelam, etc.) is remade to pay a homage to it. Strike blockbuster. To the best of my knowledge, it was a mega flop. However, as Karan Johar claims, the movie did acquire a cult status, although the alleged audience seem to be more or less limited to the film industry. They're quite generous there. Likewise, our Vijay Dinanath Chauhan also happens to be a legend. Amitabh Bachchan played it loud, and here Sanjay Dutt gets to do the honors. Of playing loud, that is. His characterization of Kancha is pathetically loud. Thankfully, Hrithik is restrained as Vijay while Rishi Kapoor marvels in the role of a pimp/gangster Rauf Lala. Priyanka Chopra is okay. And so is the movie. While I can recall the box office flopping of the old film, I can't remember much about the movie itself. I saw it years ago and did catch it on TV a few months back, but didn't finish it. So I can't compare the two, and tell you which one sucks more. Go for the remake only if you have the guts to sit through nonsensical exaggerations.
familiar stranger
Super Reviewer
Agneepath Quotes
There are no approved quotes yet for this movie.