Alambrista!
(1977)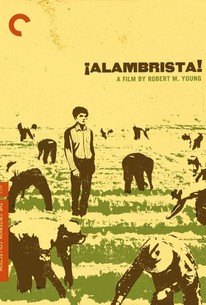 Movie Info
Robert M. Young, who has made a cottage industry of "small" atmospheric films, made his directorial debut in 1977's Alambrista!. Domingo Ambriz plays a young Mexican man who crosses illegally into the U.S. The birth of an additional child convinces him that they need more than he can earn on his small farm. Each employment opportunity ultimately evolves into a heartbreak thanks to the exploitative practices of Ambriz's American employers.
Critic Reviews for Alambrista!
Audience Reviews for Alambrista!
The scene where Dmingo Ambriz's characters "girlfriend" the waitress was trying to help him send a money order back home, Asked a customer to translate & then found out he was sending $$$ back home to his wife was hilarious! Also where he & his buddy were riding in the Cadillac on the car trailer on top of a moving train looked like fun.Shame his buddy had to be an idiot
Brody Manson
Super Reviewer
Alambrista! Quotes
There are no approved quotes yet for this movie.