Alien: Covenant
(2017)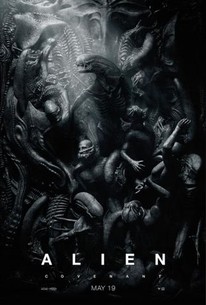 TOMATOMETER
AUDIENCE SCORE
Critic Consensus: Alien: Covenant delivers another satisfying round of close-quarters deep-space terror, even if it doesn't take the saga in any new directions.
Movie Info
Ridley Scott returns to the universe he created, with ALIEN: COVENANT, a new chapter in his groundbreaking ALIEN franchise. The crew of the colony ship Covenant, bound for a remote planet on the far side of the galaxy, discovers what they think is an uncharted paradise, but is actually a dark, dangerous world. When they uncover a threat beyond their imagination, they must attempt a harrowing escape.
News & Interviews for Alien: Covenant
Critic Reviews for Alien: Covenant
Audience Reviews for Alien: Covenant
½
Watching this I had the feeling that Ridley Scott is long since passed tired of the Alien xenomorph as a figure of horror, so what we get here is something else. What scares him then? Not that there's something horrible out there but, simply put, that we created it. Fassbender is economic as the future of Dr. Frankenstein, and the rest of the cast little more than cardboard cut-out caricatures meant to do little more than break whatever rules they've been given ... which gets them killed (spoiler alert)(oh wait, no, cause that's what EVERY submoronic horror does). Ho-hum.
Kevin M. Williams
Super Reviewer
It's sad to see that 100 years or so in the future all the technological advancements in the world can't do anything about human stupidity. What does Covenant do right? Well, it presents a harrowing character study in David and approaches themes of creation in beautiful fashion. The cinematography is breathtaking as we explore the twisted mind of a chillingly well composed and acted (Thanks Fassbender) villain. Furthermore a lot of the world and lore is just genuinely fascinating. Unfortunately the film fails tremendously as a horror suspense thriller. Without an ounce of common sense or remote degree of competence the cast dies left and right. What's worse is that there's no weight of loss because they're all terribly forgettable. Even Daniels just seems to be another poor imitation of the iconic Ellen Ripley. Covenant paints an interesting world, a villain with presence, has boasting visuals and commendable action set pieces but as it foolishly stumbles about from one sequence of slaughter to another you just don't really care.
Drake Tsui
Super Reviewer
½
Ridley Scott lands in paradise with Alien: Covenant. Soaring in at 2 hours, Alien: Covenant manages to steer the ship in the right direction of mystery and intrigue, with a pinch of horror. Moving at a steady pace, the plot manages to explain more than it leaves unanswered; definitely a positive. It also leaves the want for more details. The violence is bloody and brutal while the CG meets the alien standard. The high use of the dark setting helps with the suspense. Michael Fassbender does the heavy lifting and is the "life" of the film. Katherine Waterston is the runner up in the performance department. Alien: Covenant is a little light on the horror, but soars with the sci-fi and mystery.
Alien: Covenant Quotes
There are no approved quotes yet for this movie.
Discussion Forum
Discuss Alien: Covenant on our Movie forum!