Altered
(2006)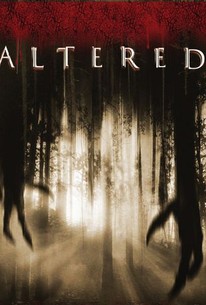 AUDIENCE SCORE
Critic Consensus: No consensus yet.
Movie Info
The Blair Witch Project co-creator Eduardo Sanchez returns to direct his first feature film since that 1999 forest-bound frightener that took the world of horror by storm with this shocker concerning a group of former alien abductees who seek vengeance against the malevolent extraterrestrials who kidnapped them fifteen years prior. It's been more than a decade since five hunters were swept out of the forest and into the night skies by a powerful otherworldly force, but only four of the lifelong friends ever found their way back to terra firma. In the wake of that inexplicable tragedy the remaining friends found their bond growing stronger than ever before. None of the men have ever forgotten about their long lost friend, or the trauma that they endured on that fateful night. Years later, upon capturing one of the very same creatures that caused all of their suffering, the four friends retreat into a remote forest compound to execute their long awaited revenge. To set the creature free would be to sign their own death warrants, and to kill it would almost certainly spell their doom as well. As the long night wears on and an impenetrable blackness once again washes over the darkened woods, the hunters realize that they only have a few hours left to decide the fate of the strange and menacing creature.
Critic Reviews for Altered
Audience Reviews for Altered
½
I thought that this movie was a hoot! Maybe I was just in the mood for a gruesome, silly, sci-fi alien flick.
Cynthia S.
Super Reviewer
½
If Seinfeld is the show about nothing, Altered is the movie about nothing. These four friends were abducted by aliens fifteen years earlier, so these geniuses decide to get revenge by kidnapping one of the aliens. They accomplish their goal, but once they do, they don't know what to do with it and lock it in the garage. After that it becomes a slasher film where nothing significant really happens. Honestly, they kidnapped this thing and then don't know what to do with it, so then what's the point? To make things worse, we never see the abduction or find out what exactly happened to them up there. It's just an extremely dark and confusing hunting scene, which believe it or not features a harpoon, and then there is nothing else. As for the acting it is just as inconsistent as the story! One minute their going crazy, trying to kill each other and the next they're crying about old times, it's ridiculous! James Gammon is the only name in this thing, playing the sheriff in one of his last roles. The guys are so intimidated by the sheriff and when we finally see him, we find out he's this little eighty year old guy, are you kidding me? This movie is a complete disaster and an utter waste of time. Being that it's from the writer/director of The Blair Witch Project, I was expecting something as groundbreaking as that was, unfortunately, Altered isn't it and there is a good reason why you've probably never heard of it.
Todd Smith
Super Reviewer
½
*** out of **** The location is Florida; the middle of some woods that rests apparently not very far from or on a farm. Three men find themselves there at night, clearly hunting something. They bring with them high-tech weaponry and have traps already set all around them. If the dark shadows that linger nearby and sometimes make a peculiar noise before vanishing yet again are any indicator, what they are hunting is at least not of their own species. When one of these things falls into one of their traps (the famous rectangular-hole in the ground), we get confirmation that it isn't human. And these guys have got some serious beef with its race. The names of the men are Cody (Paul McCarthy-Boyington), Duke (Brad Henke), and Otis (Michael C. Williams). They bring the creature, alive, to their friend Wyatt's (Adam Kaufman) house. So that officially makes four of them. Four men who we learn in due time were all at once abducted by the strange beings that dwell in the farmland forest about fifteen years ago. The beings (let's just go ahead and refer to them as aliens; that's what they are) took the life of a mutual friend, and now they are hungry for not only vengeance but answers. Once they're at and inside Wyatt's house, upsetting his girlfriend Hope, most of the action occurs there. They tie the alien down and cover its eyes with duct-tape so that it cannot influence the brains of the mortals present with its mind-controlling powers. They make an incision in its torso and emerge with an organ of some sort that will signal an entire army of extraterrestrials to its current location. It's only a matter of time before the shit hits the fan. But what's a movie about people waiting for something to happen without an up-close-and-personal study of the people themselves? This is where Eduardo Sanchez's "Altered" is one of the best alien horror-thrillers since M. Night Shyamalan's "Signs"; the characters and the overall situation both feel incredibly real for a film that, at a glance, might seem to have bigger B-movie aspirations than it actually does. It's fun, sometimes quite gruesome and thoroughly creepy; but also surprisingly human. The film scores big in representing the grueling psychological effects that the abduction must have had on the boys; Wyatt appears to suffer the most. I've heard word of the film being initially conceived as a horror-comedy. For the first half or so, it's a completely serious horror film that deals in ambiguity and claustrophobic tension. Within the second half, or whenever the aliens finally show themselves, it more or less becomes some embodiment of the film that Sanchez originally wanted it to be. In this second half, it gets over-the-top with rubber monsters and even a bizarre scene where a guy's life is in the hands of an alien with his bloody intestines in its own, until it all kind of simmers down in a somewhat disappointing and ultimately forgettable climax. Nevertheless, I enjoyed "Altered" throughout and found Sanchez's balancing of these different tones most impressive. The film proves that there is life after "The Blair Witch Project" for Mr. Sanchez. He is clearly a talented filmmaker who knows how to turn rags into riches when it comes to his material (as exemplified brilliantly in that spooky first film of his). "Altered" is low-budget and low-key for the most part, but that never completely goes to its head. It does so much with what it's got, which doesn't seem like very much on the surface, and I admire it quite a bit. This isn't extraterrestrial, claustrophobic terror at the level of John Carpenter's "The Thing", but it's a whole lot smarter than you probably think it's going to be. I recommend it as long as you're one of those movie-goers who won't mind waiting for that thing to happen along with the characters so long as that thing is good payoff and the build-up is solid. In my honest opinion, the build-up here is more satisfactory than the payoff; but they can't all end well. It's the bulk of it that really counts.
Ryan Marshall
Super Reviewer
Altered Quotes
There are no approved quotes yet for this movie.