Altitude
(2017)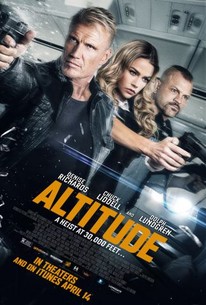 AUDIENCE SCORE
Critic Consensus: No consensus yet.
Movie Info
Gretchen Blair (Denise Richards) is a headstrong FBI agent who goes rogue on a hostage negotiation and is sent packing to a desk job back in DC. By a stroke of luck, she's upgraded to business class on her flight - but as soon as the plane takes off, her seatmate (Kirk Barker) offers her millions of dollars if she can get him off the plane alive. As his ex-partners (Dolph Lundgren, Chuck Liddell, and Greer Grammar) stage a brutal hijacking, Gretchen finds herself in the fight of her life - choosing sides between two factions of a criminal gang and trying to keep the plane from going down.
Critic Reviews for Altitude
All Critics (2) | Top Critics (2) | Fresh (0) | Rotten (2)
Since the action takes place entirely on the plane, it's mainly of the claustrophobic variety, with the shootouts and fistfights often rendered in near incomprehensible fashion.
The cast is game and the pace blessedly zippy, but everything about this film feels too fake to generate any real suspense.
Audience Reviews for Altitude
½
There is no great glaringly obvious flaw in Altitude that ruins it. It's not outright dumb, the plot more-or-less makes sense, the acting is serviceable, but it's just so... Nothing. There's not a single person, place or thing that ingratiated Altitude to me. It's as forgettable as they come, and does nothing you haven't seen done better elsewhere.
Altitude Quotes
There are no approved quotes yet for this movie.