Anonymous Rex
(2004)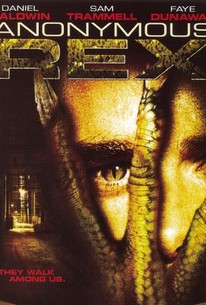 AUDIENCE SCORE
Critic Consensus: No consensus yet.
Movie Info
Based on Casual Rex, one of a series of lighthearted fantasy novels by Eric Garcia, the made-for-cable Anonymous Rex would have us believe that not all dinosaurs were rendered exinct 65 million years ago. The survivors dinos had gone into hiding, gradually re-emerging in human form courtesy of a special holographic process. In fact, one out of every ten thousand "humans" is actually a well-assimilated dinosaur, and among these are a pair of private eyes: Ernie Watson (Daniel Baldwin) and Vincent Rubio (Sam Trammell), respectively a raptor and a triceratops. Hired to investigate the "accidental" death of the son of one of Ernie's old girlfriends, the two lizardy gumshoes stumble upon a cult called the Voice of Progress, comprised of fanatical dinosaurs who want to wipe out all humans and take over the world. Things take a serious turn when one of the two detectives is killed, and Ernie's daughter Gabrielle (Stephanie Nicole Lemelin) is kidnapped. Although the special effects are nothing to write home about, the film scores with its wry, knowing humor, likening the plight of the disguised dinos to those people in real life who must "pass" as something they're not (there's even a scene at a nocturnal dino club which looks more like a reptilian gay bar). Anonymous Rex debuted December 4, 2004 on the Sci-Fi Channel.
Critic Reviews for Anonymous Rex
There are no critic reviews yet for Anonymous Rex. Keep checking Rotten Tomatoes for updates!
Audience Reviews for Anonymous Rex
½
I really kind of enjoyed this. Not what I was expecting at all. The idea of dinosaurs surviving and living among people raises many questions, none of which go answered. It brings about familiarities with Men in Black and Alien Nation. Luckily, it falls into a weird void of comedic, cheesy, sci-fi noir. Our protagonist is one of these dinosaurs used to "silence" human witnesses. Immediately this causes a lot of interest, as we have a character that essentially kills humans, most of whom are just in the wrong place at the wrong time. At the same time the film does well to make us empathise with their plight. He is also a private detective, which leads to some rather knowing voice-overs. The best thing is that he is a conflicted character, one that kind of believes that the dinosaurs should stop living in the shadows, and rise up against the humans. Obviously the effects aren't up to much and they will generate chuckles. The science is out the window, just go with it. This will be a great film for B Movie fans, as it doesn't take itself too seriously, but doesn't hide its shortcomings with over-the-top winks at the camera. I also enjoyed the techniques employed for the dinosaur destruction flashback (using toys), and the visual representations to the different pheromones.
Luke Baldock
Super Reviewer
Interesting plot, poor execution.
vieras esine
Super Reviewer
Anonymous Rex Quotes
There are no approved quotes yet for this movie.
Discussion Forum
Discuss Anonymous Rex on our Movie forum!