Antonio Gaudí
(1986)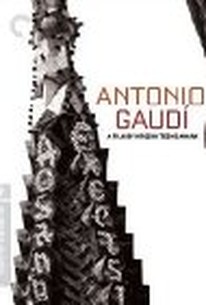 Movie Info
Antonio Gaudi's startling, unique architectural and essentially sculptural creations like his undulating walls are presented with clarity and in context in this interesting documentary by Hiroshi Teshigahara. Gaudi was a Catalan, like his well-known fellow artists Pablo Picasso, Joan Miro, and Salvador Dali, and he was inspired by Catalan art of the Middle Ages, specifically the Romanesque Period. Teshigahara provides a background on the region and politics of Cataluna, and reviews the Romanesque Period in art, 1000-1300 C.E., so that viewers can understand where Gaudi was coming from. Then the artist's creations are analyzed in a succinct, careful manner which reveals more to the eye than just uninformed looking could ever do. ~ Eleanor Mannikka, Rovi
Critic Reviews for Antonio Gaudí
Audience Reviews for Antonio Gaudí
Call it An Ode to Antonio Gaudi or perhaps A Celebration of Antonio Gaudi but lets drop the "documentary" moniker here and now. This is no documentary.
Randy Tippy
Super Reviewer
a nearly wordless journey into the past, exploring the roots of the visionary catalan artist and architect's organic modernism. shot in a minimalist style, which works brilliantly with the ornate buildings. these are investigated from every angle, making barcelona appear like a fairyland. wonderfully evocative score too. there's some narration in the last few mins but i can't tell what it's about since it's in japanese but it doesn't really matter. a mesmerizing film that can be seen in excellent quality here --> http://youtu.be/BT6z8bL4D8Y
Stella Dallas
Super Reviewer
[font=Century Gothic]"Antonio Gaudi" is a mesmerizing documentary by Hiroshi Teshigahara about the famed architect(1852-1926). The film shows buildings that Gaudi designed for most of its length with no voiceover, only otherwordly music on the soundtrack. At the end, one of his compatriots explains the significance of one particular cathedral, thus giving a symbolic meaning to everything that had been shown until then. In his buildings, Gaudi was bringing nature to that most artificial of environments - the city.[/font] [font=Century Gothic][/font] [font=Century Gothic]The most arresting images in the film were those comparing Gaudi's buildings to the more modern buildings. It is interesting to see how these structures are used by the public in the present day.[/font]
Antonio Gaudí Quotes
There are no approved quotes yet for this movie.