Ape
(2014)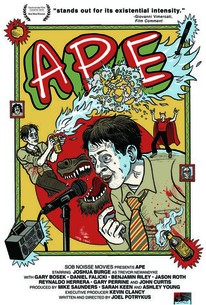 Movie Info
There are a myriad of young directors who have decided to focus their attention on the failures of their peers, daring to show the western white male as immature and antisocial, exposing his contradictions, neuroses and anxieties. Welcome to economically depressed Grand Rapids, Michigan, the city of director Joel Potrykus. Here we find the listless Trevor Newandyke (a brilliant Joshua Burge), a sociopath, comic failure and arsonist. His efforts to wrestle a smile from his audience with his stand-up monologues lead to one flop after another. His jokes give off a desperate, sarcastic vision, expressing a true punk sense of humour that forestalls any kind of public support. When he's not trying to invent pathetic jokes in front of his bathroom mirror, Trevor likes to set fire to rubbish bins and gets off on the sound of throwing Molotov cocktails at his neighbours' homes. Trevor's life is a concentration of trouble, absurd meetings and discussions, public humiliation, solitary wanderings and long moments of exhaustion spent between the walls of his small room. One day a man dressed as the Devil offers him a deal. (c) Official Site
Rating:
NR
Genre:
Directed By:
Written By:
In Theaters:
Runtime:
Studio:
Audience Reviews for Ape
½
While the delivery isn't the smoothest, this portrait of a sociopath comic still hits its keenly-observed marks.
Lee Mayo
If Scorsese's 'Taxi Driver' & 'The King of Comedy', Bronstein's 'Frownland' and Schumacher's 'Falling Down' (with a touch of Cronenberg & Korine) had engaged in an orgy while next to a raging inferno, you'd get this movie. Trevor is a struggling comedian who is also a pyromaniac. One day he makes a deal with a man dressed as the devil in exchange for a golden apple. The apple he eats in it's entirety while on stage and it boosts his confidence while slowly sucking the life out of him. As a way of removing his humility, but to remind him of it, someone in an ape costume parades around like the man in the rabbit suit from Donnie Darko. It plays an existential role in Trevor's toilet flush of a life, but you can't help but find a likable quality to him. Joshua Burge as Trevor was utterly convincing as the psycho comedian with a pyromania fetish. The anti-funny stance to the stand up world was perfectly satirized and the real world surrounding Trevor's struggle was harsh and sad. Still, it's an impressively made movie with a LOT of angry energy buried underneath.
The Vulture
The first hour of the movie was a depressing, clerk-style but with awful acting disaster. The "devil" portion was sort of clever but not a strong enough finale to make up for a dreary 90%.
Ryan Klinen
Ape Quotes
There are no approved quotes yet for this movie.