The Apprenticeship of Duddy Kravitz
(1974)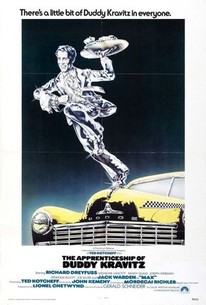 The Apprenticeship of Duddy Kravitz Photos
Movie Info
Richard Dreyfuss put himself on the map with his performance in this movie about how ambition and greed can drive someone at the expense of his own happiness. Duddy Kravitz (Dreyfuss) is an 18-year-old Jewish kid from Montreal whose mother is dead, and whose father drives a cab and does a little pimping on the side to pay the bills and send Duddy's older brother to medical school. Duddy has bigger dreams, and he does everything from producing films of bar mitzvahs to attempting to buy real estate to (unknowingly) smuggling heroin in order to strike it rich. Along the way, however, he alienates his girlfriend, drives his grandfather to despair, loses all his friends, and even paralyzes his best employee, while making himself more and more miserable. Duddy's desire to be a success is easy to understand, which makes this potentially unlikable character forgivable, and the film's gallery of details and characters adds realism and energy to the story.
Critic Reviews for The Apprenticeship of Duddy Kravitz
Audience Reviews for The Apprenticeship of Duddy Kravitz
Considered one of the greats of Canadian cinema, "The Apprenticeship of Duddy Kravitz" is a modest effort from director Ted Kotcheff that details the rise and fall of a young Jewish kid whose aspirations and greed end up cutting him off from his friends and family. One of the reasons why "The Apprenticeship of Duddy Kravitz" is so successful is because of how it remains indifferent to the actions of its titular character, never showing him in a negative light even when it's clear that what he's doing isn't exactly morally sound. The performances are all brilliant, especially from Richard Dreyfuss, Jack Warden, Barry Pascal and Denhom Elliot, and overall, the film is an exceptional tale of how greed can fulfill one's dreams while simultaneously destroying everything else in their lives.
Stephen Earnest
Super Reviewer
½
Dreyfuss looks really young and he's great in this. Interesting rise and fall kinda film.
It was quite a coup to get Dreyfuss for the role. I can't imagine anyone else doing as effective a job.
John Ballantine
Super Reviewer
The Apprenticeship of Duddy Kravitz Quotes
There are no approved quotes yet for this movie.