Assault Girls (Asaruto gâruzu)
(2009)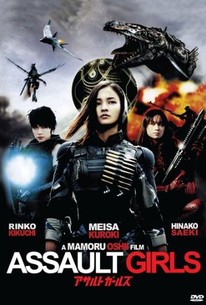 AUDIENCE SCORE
Critic Consensus: No consensus yet.
Movie Info
Ghost in the Shell director Mamoru Ishii takes the helm for this sci-fi action adventure about three women who don heavy body armor and wield massive assault rifles to do battle with enormous sand whales on a remote desert planet known as Avalon F. Their survival instinct and warfare skills put to the test in an exhilarating game of death, the Assault Girls fight an increasingly formidable array of enemies as the all-seeing Game Master dictates who will perish, and who will live to play again. ~ Jason Buchanan, Rovi
Critic Reviews for Assault Girls (Asaruto gâruzu)
Audience Reviews for Assault Girls (Asaruto gâruzu)
Assault Girls has no real story. Also, since it is set in a computer game world, there is no real threat. Then why was I so engrossed by it all? It was simply a bizarre mix of many things that I love, served up in a very short movie. It all begins with a lumbering voice over that really doesn't fit with the film. I was worried by the pomposity of it. Next up came long takes sweeping the vast desolate landscapes. There was also a shot of a snail slowly crawling along. It was like something from a Terence Malick movie, where nature triumphs over story, only here it was in a funny Japanese OTT action movie. Soon we see a man walking and he certainly walks for a while. It was reminiscent of Omar Shariff in Lawrence of Arabia. As the film finally unfolds its basic story, we see this is all set in a computer game, where 4 characters are finding it hard to defeat the final boss. They must band together if they wish to destroy it. Quite why this story is that of a film is beyond me. Perhaps it is showing how people have become wrapped up in computer games and they are an extension of our lives and characters. But probably not. I really enjoyed its serene and quiet nature, but wish there had been more story. The effects were fantastic, and I loved each and every CGI creation. Kikuchi was once again the standout star in once again a mute role. Her screen presence is undeniably exotic and unique. Her quirky dancers, and the way she can captivate by looking at a hat. You wont get much from this movie, but it was a wonderful 70 minutes.
Luke Baldock
Super Reviewer
A sequel of sorts to Avalon, Assault Girls gets high points for its visuals from gorgeous cinematography to its cooler than cool costumes but its lack of a plot makes it hard to sit through even at 66 minutes. Rumor has it that this was just a taste of whats to come with several more Assault Girl films on the way which is fine by me but I hope the next one will have more in the way of a story rather than this ones paper thin tale of four gamers teaming up to take out a level boss.
A.D. Villarreal
Super Reviewer
½
Sometimes it feels like Oshii keeps making the same films over and over again. And yet I keep watching. As usual, those sucked in by the glossy cover and premise are quickly met with philosophical deliberations that drag out the running time of a 90 minute film to unreasonable lengths. But if you're an Oshii fan you won't mind.
Assault Girls (Asaruto gâruzu) Quotes
There are no approved quotes yet for this movie.