Astérix et Obélix contre César (Asterix and Obelix vs. Caesar)
(1999)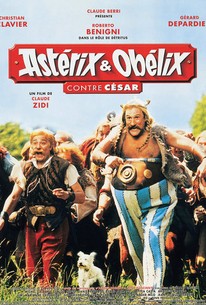 AUDIENCE SCORE
Critic Consensus: No consensus yet.
Astérix et Obélix contre César (Asterix and Obelix vs. Caesar) Videos
Astérix et Obélix contre César (Asterix and Obelix vs. Caesar) Photos
Movie Info
Asterix and Obelix, the French comic book heroes created by René Goscinny and Albert Underzo (their adventures have sold 280 million copies to date in Europe), are brought to the big screen in their first live-action adventure. Set in 50 B.C., Asterix (Christian Clavier) and Obelix (Gérard Depardieu) are a pair of comedic heroes living in a small but well-protected village in Gaul, where a magic potion concocted by Druids turns the townsfolk into mighty soldiers. When Roman troops carve a path through Gaul to reach the English Channel, Caesar (Gottfried John) and his aide de camp Detritus (Roberto Benigni) discover the secret elixir and capture the Druid leader who knows its formula, and Asterix and Obelix are sent off to rescue them. Shot in Brittany, Bavaria, and Arpajon, Asterix et Obelix Contre Cesar brings these cartoon characters to life on a grand scale; it was reportedly the most expensive French-language film ever, at a cost of 274 million francs ($48 million).
Rating:
NR
Genre:
, ,
Directed By:
Written By:
In Theaters:
Runtime:
Cast
Critic Reviews for Astérix et Obélix contre César (Asterix and Obelix vs. Caesar)
All Critics (0) | Fresh (0) | Rotten (0)

Audience Reviews for Astérix et Obélix contre César (Asterix and Obelix vs. Caesar)
½
I'm a huge fan of the comics, and I was excited about seeing this when it was originally released. This film is pretty decent, with nothing too good going for it. I felt that the film lacked the fantastic humor from the comics and that the humor in the film was far more silly, and necessarily a good thing. This film is enjoyable, but it definitely lacks what the comics had. I think that Asterix is not one of those comics that you can easily adapt to live action, and the end result is a film is a decent film that never is anything great. I liked the film, but I was disappointed as well. I just felt like it could have been much better than what it turned out to be. This film could have been great, but it just doesn't have the charm that the comics have. The two lead actors make it worth seeing and there are some good moments here and there. However the film is far from perfect and it's not as good as the comics. Considering that the books are wonderful, there was plenty of source material to draw from. But they only drew from the earliest comics, not necessarily the funniest ones. Overall I liked the film, but I felt that the live action ruined it a bit. A decent, but never anything great, Asterix et Obelix is a mindless film that has its flaws, but is enjoyable enough if you like the comics. The film is worth watching, but as a whole, it doesn't have the memorable comedy that the comics had.
½
pretty good adaptation of the french classic comic. Caesar's Birthday Gift was funny! As was poor Dogmatix on the torture wheel!
Aaron Chuah
Hilarious movie. Christian Clavier and Gérard Depardieu make their fantastic performance as their title Gaul hero roles. Kids will love it, and adults will enjoy comparing the film to the comic books.
Steven Vincent Gee
Super Reviewer
Discussion Forum
Discuss Astérix et Obélix contre César (Asterix and Obelix vs. Caesar) on our Movie forum!
News & Features