Atomic Blonde
(2017)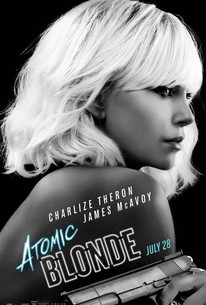 TOMATOMETER
AUDIENCE SCORE
Critic Consensus: Atomic Blonde gets enough mileage out of its stylish action sequences -- and ever-magnetic star -- to make up for a narrative that's somewhat less hard-hitting than its protagonist.
Movie Info
A high-stakes, global action-thriller that takes place in the city of Berlin, on the eve of the Wall's collapse and the shifting of superpower alliances. Charlize Theron ("Mad Max: Fury Road") portrays Lorraine Broughton, a top-level spy for MI6, who is dispatched to Berlin to take down a ruthless espionage ring that has just killed an undercover agent for reasons unknown. She is ordered to cooperate with Berlin station chief David Percival (James McAvoy of "X-Men"), and the two form an uneasy alliance, unleashing their full arsenal of skills in pursuing a threat that jeopardizes the West's entire intelligence operation.
News & Interviews for Atomic Blonde
Critic Reviews for Atomic Blonde
Audience Reviews for Atomic Blonde
Atomic Blonde is a visceral action packed espionage fight-fest that utilizes some amazing performances between Mcavoy and Theron. It seems like the spy genre will always have trouble balancing a multilayered plot that's either too basic or too convoluted, and this may be a bit of the latter. As with most secret intelligence stories there's a "list" that everyone wants to get a hold of. What makes this production really stand out though is the bare-bones action sequences and stylish neon art direction. Watching Theron fight her way from one gritty setting to another is a marvel and deciphering the plot is a treat on the backdrop of Mcavoy's outstanding performance. I don't think it was exceedingly convoluted and the plot twists actually came in sync with themes of Theron's character if not delivered a little heavy handed. It's just upsetting to see complex spy thrillers get ostracized by a bunch of "I dun get it" folks, while alternatively basic representations of the genre (Captain American: Winter Soldier) get praised.
Drake Tsui
Super Reviewer
Charlize is awesome and the fight scenes are well done, but the story is a bit cumbersome and it causes the final third to drag.
Spencer Macklin
Super Reviewer
½
A standard spy genre set-up: somebody (in the spy game no less) has written down a list of who's who in the spy game and now everybody in the game wants the list. But the focus of our bemused speculation is Charlize Theron, a lady (what???) spy, and therein is all the difference in the world. And so, a typical - if nonsensical - spy tale. (I mean, spies should know that one just doesn't make lists of all the spies, but let's move beyond that.) The thrill here is watching that selfsame lady survive in the world of asswhupping that the spy game genre typically demands, and this film delivers. Bigtime. Asswhupping. And a killa 80's soundtrack.
Kevin M. Williams
Super Reviewer
Atomic Blonde Quotes
There are no approved quotes yet for this movie.