The Badge
(2002)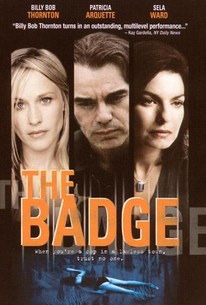 Movie Info
Billy Bob Thornton stars as Darl, a homophobic Louisiana sheriff assigned to investigate the murder of a local transsexual. Ever so gradually shedding his animosity toward the gay community, Darl finds himself shunned by his own friends and coworkers. But worse is still to come, as his investigation threatens to expose a far-reaching coverup by several high-ranking city and state politicians. Patricia Arquette costars as Scarlett, a stripper-prostitute who was once married to the murder victim. Originally slated for theatrical release under the title Behind the Badge, this film was reportedly shelved because of its marked resemblances to the like-vintage Billy Bob Thornton feature Monster's Ball. The Badge finally saw the light of day courtesy of the Starz! pay-cable TV service on September 7, 2002.
Critic Reviews for The Badge
All Critics (6) | Fresh (2) | Rotten (4) | DVD (2)
Depois da interessante primeira hora, o roteiro se acovarda e evita se aprofundar nos polêmicos temas que vinha abordando. Além disso, os buracos na trama e os personagens unidimensionais comprometem a história.

That Thornton transcends the material time and again is ultimately just the type of thing that shines light on the need for the material to be transcended.
Predictable though enchanting..may be anomalous, it may unusual and it may be irresolute in parts, but it's definitely a well-performed and captivating piece of film

Audience Reviews for The Badge
½
the badge is a somewhat thrilling and somewhat entertaining murder mystery film that has a horrible and pointless ending once they find out who the killer is. billy bob thornton and patricia arqutte give good performances but its not enough to save how dull the dialogue is and how dull the entire storyline and outcome is. this film had promise and potential, but it never delivers any good laughs and its very prejudice towards homosexuals.
Adrian Fylonenko
½
Mildly entertaining whodunit flick. Best thing about this movie was seeing the sexy Patricia Arquette in a t-back.
Steve Oh
½
[url="http://www.rottentomatoes.com/m/badge/gallery.php"][img]http://images.rottentomatoes.com/images/movie/coverv/85/202385.jpg[/img][/url] Patricia Arquette has always been a favorite of mine. I guess True Romance was what hooked me on to her. Billy Bob Thornton is always a lot of fun to watch. The film is not a great piece of work, but it does do its job entertaining and keeping you engaged. I had a good time.
M Sarki
The Badge Quotes
There are no approved quotes yet for this movie.
Discussion Forum
Discuss The Badge on our Movie forum!