Bai she chuan shuo (The Sorcerer and the White Snake)
(2013)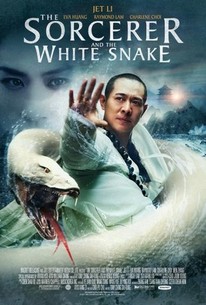 Bai she chuan shuo (The Sorcerer and the White Snake) Photos
Movie Info
Action director Ching Siu-Tung helms this fantasy film based on an old Chinese legend about an herbalist who falls in love with a thousand-year-old White Snake disguised as a woman. Jet Li stars as a sorcerer who discovers her true identity and battles to save the man's soul. (c) Magnolia
News & Interviews for Bai she chuan shuo (The Sorcerer and the White Snake)
Critic Reviews for Bai she chuan shuo (The Sorcerer and the White Snake)
Audience Reviews for Bai she chuan shuo (The Sorcerer and the White Snake)
It's not just Hollywood that's looking at fabled legends to adapt from, or to remake/reboot films from the past. Cinema in the Chinese territories are doing so as well, revisiting material that will probably benefit in having CG effects to spruce up storytelling. Tony Ching Siu-Tung directs this update of a film that chronicles the romance of a White Snake spirit and a mortal man, which of course is forbidden by lore, and a monk who goes between them. A battle between Fahai and Neng Ren against the bat-demon on Mid-Autumn night is an excellent case-in-point- ditto for the extended climax between Fahai and the White Snake set in the middle of the ocean. Admittedly however, none of the action sequences are particularly memorable - mostly because Jet Li only gets to spar against either a green screen or against 'green' martial arts actors like Eva Huang and Charlene Choi. But in spite of these shortcomings, this remains a richly entertaining brew of fantasy, romance and CGI - the supernatural world is vividly realised, the romance is surprisingly affecting and the CGI is also commendable by the standards of Chinese cinema.
Dean McKenna
Super Reviewer
½
Although certainly patchy in places, the visuals of this film kept me absolutely entranced. Based on a Chinese folktale that sees a mortal man fall in love with a snake demon. Jet Li plays the man who must come between them and capture the demon. I liked the idea of having the protagonist being the person that has to split up the loving couple. It gave us a better look at someone who would usually be a villain. The action scenes were full of colour and were beaitifully shot. Many would complain about the CGI but I was so taken in with the relationships of certain characters that I couldn't possibly complain. Seeing Jet Li bounce around the ocean as giant snakes leap at him was a great site to behold. The film also had some rather moving musical pieces. The character designs were a lot of fun and at times it felt like a mixture between classic martial arts movies, a fantasy, and a Disney film, especially when the talking animals arrived. No, it certainly isn't for everyone, but when compared with cheesy B movies, this was entertaining, visually interesting, and a lot of fun.
Luke Baldock
Super Reviewer
½
Tony Ching goes for heavy duty fantasy and romance with The Sorcerer and the White Snake.
Story-wise, the film never drags, but at times it is cumbersome and even a little jumbled. The explanations, especially for the fantasy pieces, have only enough explanation to get by and that's all there pretty much is to it. The rest all relies on the story of love between a demon and a human.
It's hard to classify this as an action adventure, even though it does have its share of action. Martial arts this is not because nearly all of the encounters are laced with CG effects, which are so-so at best. The film's final act relies heavily on the CG and this is a downgrade when it comes to Jet Li.
Jet Li is the biggest name and he does have a prominent and integral role; however, acting-wise, this picture belongs to Eva Huang. While likable to view, her character tends to be unlikable with the way the story pans out.
The Sorcerer and the White Snake is what it is and this 95 minute tale has its audience.
Bai she chuan shuo (The Sorcerer and the White Snake) Quotes
There are no approved quotes yet for this movie.