Baise-Moi
(2000)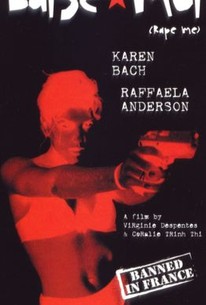 Movie Info
Manu (Raffaela Anderson) shoots a man with his own gun and runs off with his money. Later that night, she makes the acquaintance of Nadine (Karen Bach), a woman whose clean-cut appearance belies the fact that she has recently strangled her overbearing roommate. Somewhat unsurprisingly, given their mutual taste for homicide, the two women quickly become kindred spirits and decide to spend some wacky time together until "the 13th," when Nadine has to keep an appointment. Lots of sex, violence, and dead men follow, as do the police, who are breathing down the women's necks like an overly persistent bad date. Baise-Moi was a hit in France, where it endured a ratings controversy due to its extremely graphic content. All of the sex acts in the film were performed by its actors, most of whom had extensive experience in the adult entertainment industry. ~ Rebecca Flint Marx, Rovi
Critic Reviews for Baise-Moi
Audience Reviews for Baise-Moi
Strange to say, that this story in plot is quite like that of Thelma & Louise, it's very explicit nature though gives it a very controversial edge. The acting is pretty good and in some ways, this film could stand easily on it's own without the controvsial sexually explicit scenes and fairly extreme violence. In fairness this film won't be for everyone! Is it art? Is it porn? Many will not be willing to watch it to find out, many will want to watch it for that reason. .
Lady D'arbanville
Super Reviewer
½
Graphically hardcore. The story of two young women who go on a cross-country crime spree. Makes Thelma and Louise look like a lighthearted Disney movie.
Randy Tippy
Super Reviewer
ome films are made to just be provocative. Add some sex sequences and some violence and you get a wave of anger and insult in response of what the director wanted to point out. Baise Moi is a masterpiece which should be seen by consentant adults ready to face reality and who want to live open minded. Yes this film is X rated for adults only but it is not pornographic !!! It is just to tough for young audiences. Baise Moi belongs to these Feature-Realism category where you find Cassavetes, Godard and others. You get in touch with the truth of what these people live, breath and feel. It tells the story (which could be real !) of two women in a world where being a women souds like hell. What about feeling compassion for Serial Killers ? What about understanding how a human being could turn himself into a monster ? What would our life mean if it doesn't worth anything to anybody ? This film shows you what you are not ready to watch and hear. This film connects you with these people frightenning us everyday and against who we protect ourselves without hearing the sound of their sufferings. It's tough, brutal, rough and so true ! Rape yourself and learn ! I want to thank the two directors and the actresses. They are more than gifted and deserve a great future !
Cassandra Maples
Super Reviewer
Baise-Moi Quotes
There are no approved quotes yet for this movie.