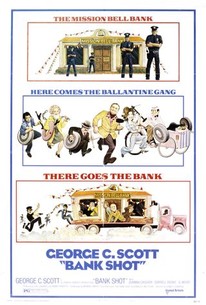 Bank Shot
1974, Comedy, 1h 23m
3 Reviews
100+ Ratings
Rate And Review
Movie Info
With the help of his bumbling partner, Al G. Karp (Sorrell Booke), master thief Walter Upjohn Ballentine (George C. Scott) breaks out of prison and resumes his illustrious criminal career. Ballentine recruits a team of mismatched misfits including lock-picking expert Hermann X (Frank McRae) and the disarmingly lovely Eleonora (Joanna Cassidy). Ballentine's team lays the groundwork for a heist at a new bank branch -- one conveniently, though only temporarily, located in a wheeled trailer.
Audience Reviews for Bank Shot
In "Bank Shot," Al G. Carp(Sorrell Booke) visits his friend Walter Ballentine(George C. Scott) in prison with a plan for a bank robbery. In return, Ballentine is so impressed with the plan that he pulls off a daring escape the following day with a little help from Eleonora(Joanna Cassidy). Once in Los Angeles, they are joined by Carp's nephew Victor(Bob Balaban, incredibly young), formerly of the FBI, where Ballentine decides that the best way to rob the bank is to steal the entire building. "Bank Shot" is an often amusing piece of nonsense, that succeeds best when it does not try so hard, crossing the line from the silly to the absurd. I suppose most people would make George C. Scott the straight man here with such a motley circus of characters but Ballentine is as much a nut, no matter how seriously he takes his job; so it works, along with a few masterful shot compositions. In any case, the movie made me laugh and that's the important thing, right?

A hilarious bank robbing movie, it's sort of slapstick too. This movie is really fun, I recommend it.
See Details