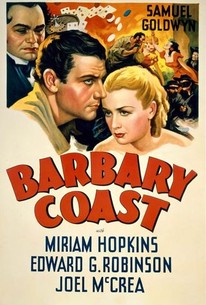 Barbary Coast
1935, Adventure, 1h 30m
13 Reviews
500+ Ratings
Rate And Review
Movie Info
Forced to remain in San Francisco after the murder of her fiancé, Mary Rutledge (Miriam Hopkins) takes a job in the saloon of powerful Louis Chamalis (Edward G. Robinson), the man responsible for the death of her intended. One afternoon while riding, Mary meets Easterner Jim Carmichael (Joel McCrea) and, attracted to him, pretends that she is a lady. Later at the saloon, Jim learns otherwise -- and despite losing all his money gambling, he remains at the saloon to pursue Mary.
Audience Reviews for Barbary Coast
Miriam Hopkins as the only white woman in San Francisco's rough and tumble Barbary Coast, arriving at the peak of the gold rush, the 1890s, which is to say she's pretty hot property. All's good with ruthless local baron Eddie G. Robinson until Joel McCrea arrives in town, quoting poetry and acting all noble - will he want her when he finds out about her tawdry past with Eddie G.? It's nice world-building that settles you into his tale's time and place. Only Joel McCrea stumbles in trying to portray an urban gent when he'll always be the boy next door, which takes some of the spike out of the punch.

A bit heavy on the ham in a couple of places but entertaining nontheless, Edward G. is fine as always although he should have rethought the earring. He and Miriam are a fine pair even though he despised her offscreen.
See Details