The Barefoot Contessa
(1954)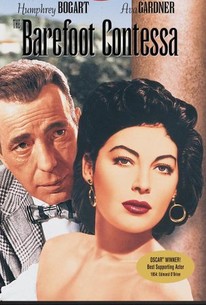 The Barefoot Contessa Photos
Movie Info
This film begins at the funeral of Ava Gardner, a former Spanish peasant, cabaret dancer, and movie star, who at the time of her death was a full-fledged contessa. Her life-story unfolds in flashback recollections from her mourners.
Critic Reviews for The Barefoot Contessa
Audience Reviews for The Barefoot Contessa
She only dances one time, then no more. Harry Dawes is a down on his luck writer/director that finds happiness at the bottom of a glass. A producer sees his talent and carries him around looking for his next big break, and he thinks he found it in Maria Vargas. Maria is a Spanish dancer with a beautiful look and unmatched charisma. She reluctantly decides to work with the producer under the guidance of Dawes. Dawes ensures they only stay friends, but life moves fast for Maria and when she finally lets her guard down for a moment, the world eats her up. "Many men must be in love with you." "From the dirt it is hard to tell." "Haven't you ever been in love?" "From the dirt it is easy to look at the clouds." Joseph Mankiewicz, director of Cleopatra, Guys and Dolls, All about Eve, Dragonwyck, The Honey Pot, Julius Caesar, and Sleuth, delivers The Barefoot Contessa. The storyline for this picture was fascinating and is interestingly taken from the real lives of Rita Heyworth (who was offered the lead role) and Ava Gardner (who ultimately starred in this picture). The plot unravels perfectly and the dialogue and monologue was magnificent. The cast delivers remarkable performances and includes Gardner, Humphrey Bogart, Warren Stevens, Elizabeth Sellars, Edmond O'Brien, Valentina Cortese, and Rossano Brazzi. "She hasn't got what I've got." "What she's got, you couldn't spell. And what you've got, you don't have any more." I DVR'd this off Turner Classic Movies (TCM) because it starred one of my all time favorite actors, Humphrey Bogart. This is an underrated gem that does have some clumsy scenes in the middle where there's a stretch Bogart, but the movie quickly gets back on track to conclude perfectly. Overall, this is a must see movie and borderline worth adding to your DVD collection. "In Hollywood it is not easy to become a star." "Where is it easy?" Grade; A
Kevin Robbins
An actress, who befriends a washed up Hollywood director, struggles to maintain her integrity in the spurious business of movie-making. Joseph L. Mankiewicz is a master story-teller. Yes, in this film, he takes the easy way out of exposition by using voice over, but the characters so are finely drawn and theme is carried with deft clarity. Humphrey Bogart proves himself to be an actor, an artist, not just a personality like many movie stars of his era. His scenes with Ava Gardner are rich with subtext, and while there's a palpable sexual attraction between the two characters, both people realize that decorum demands they react as they do. Mankiewicz's themes of personal integrity and Hollywood's corruption, on display in All About Eve and this film, have universal appeal because there's little that's unique about Mankiewicz's version of Hollywood. I thought that the writing got a little heavy-handed here and there. Overall, however, The Barefoot Contessa is a very good, classic film that puts Mankiewicz and Bogart's talents on full display.
Jim Hunter
Super Reviewer
Not as a good attempt at mythologizing (and demythologizing) a star through multiple perspectives as in All About Eve. The structure of the film is the same and shows how much forward of his time Mankiewicz was in breaking classical narrative within the compounds of Hollywood (still Citizen Kane precedes everything else and one should comment M. for accepting the lesson). Bogard isn't convincing enough in this movie as he still looks like he is out of a gangster film but he has a rare, inner quality of emotion at times. The film totally shines in dialogue (after all this is a Mankiewicz script) just as All About Eve and the brilliant lines come one after the other. For that reason and for the characterization that is created this way it totally deserves to be seen.
George Matalliotakis
Super Reviewer
The Barefoot Contessa Quotes
There are no approved quotes yet for this movie.
Discussion Forum
Discuss The Barefoot Contessa on our Movie forum!